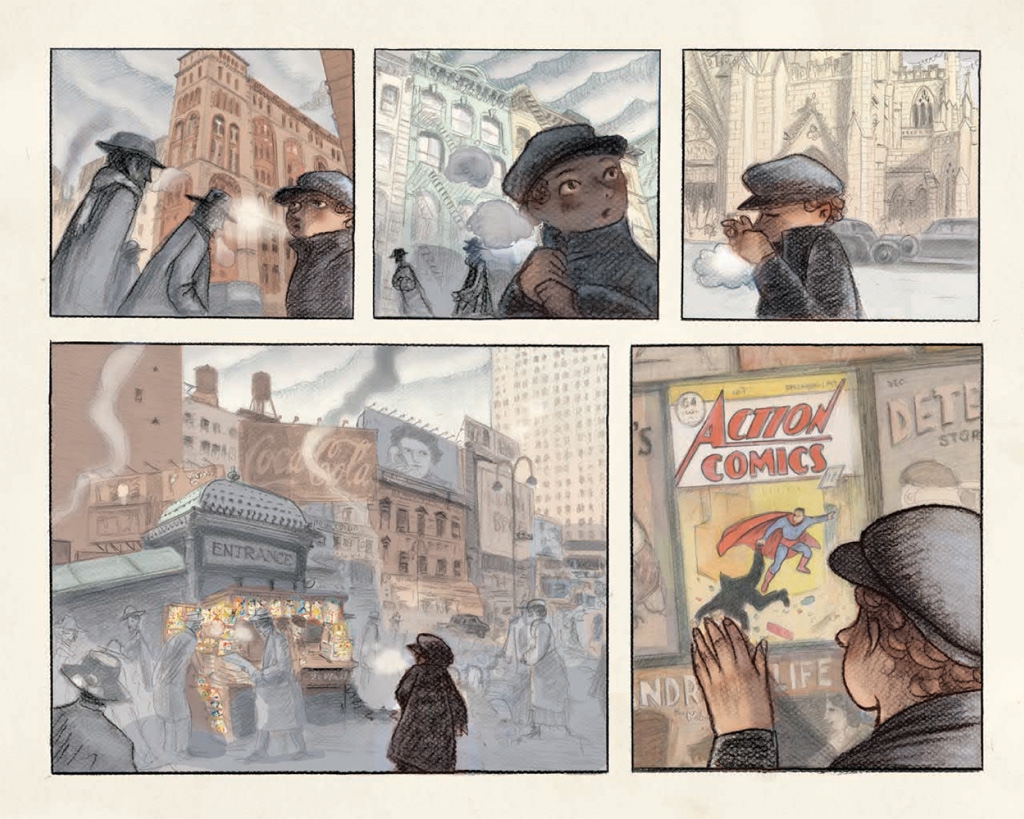 We are in the middle of the holiday of Chanukah, festival of freedom and rededication, of the courage to speak truth to power and to embody the Jewish value of preserving light against the darkness of oppression.  We are also approaching the presidency of Donald Trump, an apparent titanic failure of America's identity as a haven to the reviled, persecuted, or disadvantaged of the world.  If you are interested in reading to a young person this holiday season, you may enjoy along with her a relatively recent picture book by Richard and Tanya Simon, illustrated by Mark Siegel, Oskar and the Eight Blessings.  If you don't have a young person to read to, but you are intrigued by a work which introduces Eleanor Roosevelt, Superman, and Count Basie to the holiday commemorating the rededication of the Temple, here is the book for you.
The story, with minimal text and muted colors, is set in 1938, on Christmas Eve, the seventh day of Chanukah.  Oskar is a Jewish refugee child, sent by his parents to New York City to find the haven of his Aunt Esther's apartment. His journey requires that he navigate a strange maze of metropolitan night, during which he meets, not the frightening ghosts of Christmas past, but the real life figures who will become ghosts of a comforting future.  Count Basie whistles a jazz duet with him outside of Carnegie Hall, Eleanor Roosevelt kindly winks at him, and a benevolent news vendor, himself a visual representation of the Depression era "forgotten man," gives Oskar a free copy of Action Comics Number 1, along with the empowering (and of course Jewish) spirit of Superman.
The illustrations feature New York scenes that promote nostalgia for a past that may not have existed for every immigrant; few Jews fleeing the Holocaust were allowed entry, due to the punitive immigration quotas, the suspension of which Eleanor's husband Franklin refused to make a priority.  Yet the scenes are real, from Carnegie Hall to Herald Square, to Aunt Esther's apartment on West 103rd Street, where, in a momentary confusion of memory, she calls Oskar by his father's name. Oskar's father is back in Europe, having experienced the terror of Kristallnacht and selflessly sent his son on to safety without him.  The book includes a map, and an afterward explaining the story's origin in both history and fantasy.
The threat of darkness and inhumanity are unfortunately now very real in our country, even as the historical circumstances are different and possible responses may be different, as well.  Superman will not be sufficient, nor will remembering Eleanor Roosevelt's Universal Declaration of Human Rights or Count Basie's universal expression of musical brilliance.  Oskar and the Eight Blessings sets the call for freedom and justice in the particular setting of a New York City nighttime and reminds us of fleeting priorities which we can still reclaim as Americans, and pass on to our children. To quote the Christmas tree seller who lifts Oskar off the sidewalk as he falls, "Back on your feet, son."
Image via Macmillan