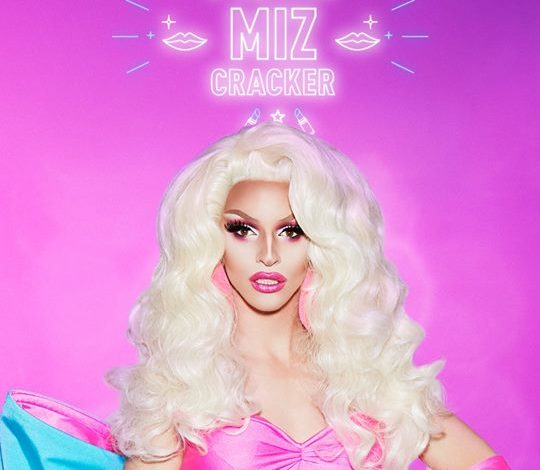 Not every season of RuPaul's Drag Race has a Jewish contestant (we're looking at you, All-Stars Season 3), but there have been plenty. In fact, two self-identifying Jewish queens have taken the crown— Jinkx Monsoon and last season's Sasha Velour. So with Season 10 upon us, do we have another Semitic contender in the person of one Miz Cracker?
Miz Cracker is the drag persona of Maxwell Heller, 33, a New York-based performer (she has referred to herself as "Harlem's Jewish princess"). She's a self-described comedy queen, and the drag daughter of previous Drag Race winner Bob the Drag Queen— already establishing her as a potentially fierce competitor. Her name, which used to be Brianna Cracker, comes from her favorite snack (brie? crackers? get it?), but it was too long, so now she's embracing being, well… a cracker.
As for her Jewish identity, she's far from quiet about it. For example, she was in the Pharrell parody video, "Jappy" (get it?), with other Jewish queens, including season 9 contestant Alexis Michelle. She has embraced the description of her style as "Jewish Barbie on bath salts." She also hosts a RPDR review show on YouTube called, really, Review with a Jew.
Besides, her catchphrase is "Okay, It's time for dinner!" She's like a young, hot, Jewish mom!
While we're on the subject of Jews and RuPaul, it's worth mentioning (again) that the show host is aggressively philo-Semitic. He has worn a magen david necklace multiple times onscreen, spoken about how he wishes gay culture could emulate Jewish culture, and even kept an English-to-Yiddish dictionary under his chair while filming.
We don't tend to endorse reality-show contestants on Jewcy— we leave it to Miz Cracker to prove her own merits as she rises to the top. That said, the new season debuts tonight, and we pray that at this time next week, Miz Cracker will still be on the show. It's a start.
While you wait, get to know the queen in this intro video.
Image via Facebook