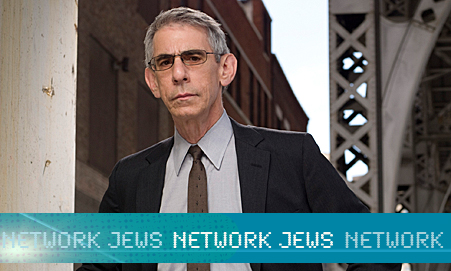 When asked about his faith, Detective John Munch (Richard Belzer) says, "The only thing Judaism and I have in common is we both don't like to work on Saturdays." Quipping aside, Munch—a cynical, sarcastic, four-times-divorced conspiracy nut—actually has a rich and nuanced, though largely secular, relationship to Judaism.
The character of John Munch is the longest-running one on television to be played by the same actor. He began as a lead on Homicide: Life On The Street as a detective in the Baltimore Police Department and then moved to New York as a Sex Crimes cop on Law And Order: SVU (which occupies the same universe), racking up a current total of 19 seasons of television. Belzer has also appeared as Munch on more series than any other television character, including the original Law And Order and its spinoff Trial By Jury, short-lived UPN cop drama The Beat, The Wire, and The X-Files, comedies 30 Rock and Arrested Development (where Munch helps the FBI run the "scrapbooking sting" on Tobias), and Sesame Street.
But for a character with such longevity, Munch's complicated relationship to his religion has been sparingly explored. Like Jerry Seinfeld, his Judaism is cultural—he's oversensitive to perceived anti-Semitism but completely fine with joking about Judaism himself. His sensitivity to personal slights, whether against his religion or not, reaches its logical conclusion in paranoia and an obsession with conspiracy theories. This aspect of the character became less prominent as he moved from Homicide to SVU, but a forensic psychologist in the first season of SVU still pegs Munch as able to "smell a conspiracy theory at a five-year-old's lemonade stand."
One of his many crossover appearances suggests Munch might not be so off the mark with his theories. The framing device of "Unusual Suspects," a Season 5 episode of The X-Files, sees Munch interrogating John Fitzgerald Byers (Bruce Harwood), the leader of the Lone Gunmen—a group of conspiracy nuts more paranoid than Fox Mulder (David Duchovney), another Jew. Within The X-Files, "Unusual Suspects" provides the origins of both the Lone Gunmen and Mulder's overwhelming fear of the government, but it also helps situate Munch's persecution complex and surprisingly well-justified distrust of authority.
Still, as much as his attitude reflects a Jewish upbringing, Munch isn't particularly religious. Homicide's episode "Kaddish," the most in-depth exploration of Munch's faith, makes it clear that although he knows the details of Jewish burial laws, some Yiddish, and a substantial amount of prayer, he wants nothing to do with Judaism. During the episode, Munch refuses to participate in a minyan, a group of 10 Jewish adults required for certain prayers, at a shiva for Helen Rosenthal, a victim whose murder he is investigating who also happens to be his high school crush. At the minyan, Munch claims (while obviously lying) that he doesn't remember the Mourner's Kaddish, the hymn of praise to God said by those grieving for a loved one.
Throughout "Kaddish," we trace young Johnny Munch's infatuation with Helen. That relationship is important by itself to understanding the adult Munch, but it also lets us peek at his nerdy childhood in the heavily Jewish Baltimore suburb of Pikesville, where he ran a paper route and dreamt of being a detective, "like Johnny Staccato." Growing up in the suburbs in front of a television, afraid of bullies, it's easy to trace a line between Johnny Munch and the cynical Sex Crimes cop.
As someone connected to Judaism more through a sort of worldview than through faith, or even rituals, Munch seems to be a kindred spirit of Homeland's Saul Berenson, another Jewish law-enforcement official who may not be exceedingly religious but takes Judaism as crucial and constitutive of his personality.
Both Munch and Saul experience similar moments confirming their inherent Judaism. Saul says kaddish over Asfal Hamid, a terrorist who has committed suicide, as a way of expressing the compassion that makes him such an effective CIA operative. Likewise, at the end of "Kaddish," Munch returns to Helen's shiva, dons a yarmulke, and joins the minyan, the sound of the Mourner's Kaddish providing the grace note of the episode.
Before he heads back to the shiva, Munch asks his partner why people forget the simple pleasure of holding another person's hand, clearly pining for the pure love he felt for Helen. The contradiction at the heart of John Munch—the cynical, paranoiac bastard with four ex wives who still believes deeply in true love—is less a signal of the hard-bitten cop's rejection of Judaism and more a representation of the reluctant Jewish hero, a tradition as old as Moses.
Previously on Network Jews
Dr. John Zoidberg, the Klutzy Jewish Crustacean on Futurama
Jean-Ralphio, the status-obsessed sidekick on Parks and Recreation.
Shoshanna, the scene-stealing afterthought on Girls.