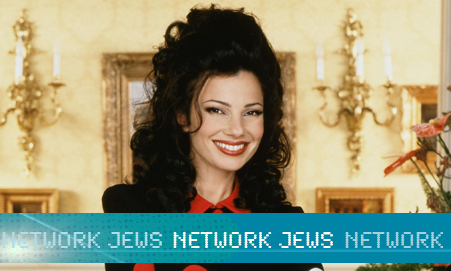 There are certain TV theme songs that anyone in their 20s would recognize (and possibly start singing) from the first line: "This is a story all about how/my life got twist-turned upside down" or "Whatever happened to predictability/the milkman, paperboy, evening TV" or "When I wake up in the morning/and the alarm gives out a warning."*
For me, the top lyrics on that list would be: "She was working in a bridal shop in Flushing, Queens/When her boyfriend kicked her out in one of those crushing scenes."
Thus begins the story and adorable cartoon that kick off each episode of the '90s TV classic The Nanny.
Basically, Fran Fine (Fran Drescher) is a nice Jewish girl in her late-20s from Queens, who's dying to get married, has big hair, a larger-than-life accent, brightly-colored suits with animal prints and giant shoulder pads, and the loudest, and let's just say most distinctive laugh you've ever heard. Somehow, she accidentally gets hired as a nanny by handsome, posh British Broadway producer Maxwell Sheffield (Charles Shaughnessy).
Her qualifications, according to the theme song? "She had style, she had flair, she was there!" Not exactly a glowing recommendation, but it's pretty true. Before taking care of the three Sheffield kids—Margaret (Nicholle Tom), Brighton (Benjamin Salisbury), and Grace (Madeline Zima)—she went to cosmetology school, was a foot model, worked in a bridal shop, and sold makeup door-to-door. In other words, Fran had no experience with kids. Yet, somehow, she managed to keep the kids alive for six seasons, and dispense stereotypically Jewish advice like "never pay retail"—Fran is obsessed with discount department store Loehmann's—and "date doctors."
Episodes of The Nanny often seem like one big Yiddish joke, especially when Fran's relatives show up. Fran's mother, Sylvia (Renee Taylor), is a binge-eater—especially when the food is free—while her grandmother, Yetta (Ann Morgan Guilbert), is senile, loves bingo, and generally has no idea what's going on. Sylvia and Fran are always arguing, while Yetta is just comic relief. This conversation from a Season 3 episode in which the family goes to therapy sums up their relationship:
Therapist: So ladies, what brings you to therapy?
Fran: I came because my mother has an obsession with me getting married.
Sylvia: I came because my daughter has a delusion that I have an obsession.
Yetta: I came because they brought me and I don't know how to get home.
The best thing about Fran, and probably the reason she became such a popular character, is that she's so proud of who she is. The Nanny is a classic fish-out-of-water story. Fran couldn't be more different from Mr. Sheffield, with his Upper East Side mansion, butler, and kids in private school. She definitely admired their lifestyle, and yet, there was no way she'd ever change. Fran never succumbed to a makeover, even if Fran's hair got straighter as the years went on, and while her voice became "normal" for a few seconds after eating wasabi, she never expressed hang-ups about it.
While the kids love Fran the way she is almost immediately, and butler Niles is always mildly amused by her and soon becomes her good friend and partner-in-mischief, it takes Mr. Sheffield more time to warm up to her demeanor. Of course, they wouldn't have hired someone as handsome as Charles Shaughnessy to play the boss if Fran wasn't going to hook up with him, and finally, at the end of Season 3, Mr. Sheffield tells Miss Fine he loves her. Drama ensues, and they don't become an official couple for another season, but eventually they start calling each other "Maxwell" and "Fran," get married, and in the series finale, they have twins.
Not bad for a shop-girl from Queens—oh, and her mother was happy, too.
*Do I really need to tell you? The Fresh Prince of Bel Air, Full House, and Saved By The Bell.
Previously on Network Jews:
Noah Puckerman, the coolest Jew in school on Glee
Andy Botwin, the promiscuous playboy on Showtime's Pot Comedy Weeds
Saul Berneson, the CIA Middle East division chief on Homeland