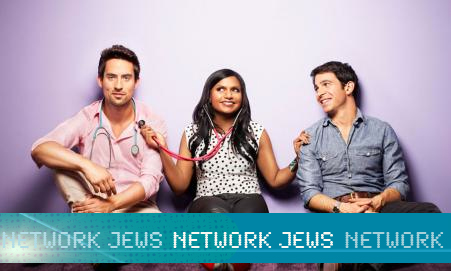 Now that summer is, for all intents and purposes (if not yet officially), over, all our favorite TV shows are on their way back from their all-too-long summer hiatus. Schmidt will be Schmidt and a slightly more mature Rachel Berry will make her NYADA debut. Eli Gold will continue to spin everything and who knows if Dr. Cristina Yang will be back (well, IMDB does). And while we can't wait for all that, we interrupt your regularly scheduled programming to take a look at this season's potential Network Jews. Not the ones that have warmed their way into your heart through hours of watching and rewatching, but the ones who might have that honor if they don't get prematurely canceled. We're the first to admit that it's difficult to judge a character by a four-minute promo, but we won't let that stop us.
Partners, CBS: Perhaps the Jewiest Network Jew on the horizon is David Krumholtz's Joe on CBS's Partners. It doesn't hurt that Krumholtz (who we love as Joseph Gordon Levitt's guide in 10 Things I Hate About You, but you may know from Numb3rs) is actually Jewish and grew up in Queens. From what we can glean, Partners is about two guys (one who wants to marry Alyssa Milano when he grows up—that would be Krumholtz—and the other who wants to marry Bette Midler—that would be his stereotypically gay best friend Louis, played by Michael Urie of Ugly Betty fame) and their joint architecture firm. Just kidding! It's about their relationship drama, or really Krumholtz's hesitation to propose to his non-Jewish girlfriend Ali (shouldn't Ted Mosby make a cameo at some point?)
The trailer seems to harp on this proposal (leading to such lines as "that's what your shmekel is telling you") and the ensuing catastrophe typical of such shows, but in the end all is right in the world and the only drama that's left is trying to figure out how Joe and Louis' relationship will harm Joe and Ali's relationship (oh, did we mention she's played by Sophia Bush?).
Jewiness: Hesitation about intermarriage? Check. Words like shmekel? Check.
Watchability: Do you really want to watch Micahel Urie talk about David Krumholtz's shmekel? Or Sophia Bush in general? We didn't think so.
The Mindy Project, Fox: This may be more of a supporting role, but we're hoping that Richard Schiff, you know, that Sorkin Jew, will have a larger place in the hospital of Fox's The Mindy Project. Granted he only has about two lines in the pilot episode (available now on Hulu). Sample: "You are eight and a half months pregnant. You're husbands gotta keep his schvantz away from you."
Jewiness: Even with his limited dialogue, Schiff manages to throw in a schvantz joke. Yep, that's another Yiddish word for penis. Oh, and he's a Jewish doctor, enough said.
Watchability: We'll always give Mindy Kaling a chance (especially now that she's done with The Office).
Go On, NBC: We're going to go out on a limb here and guess that Laura Benanti's Lauren Schneider on NBC's Matthew Perry-starring show, Go On, is Jewish. After all, Matthew Perry is no stranger to playing a character with Jewish friends. While there are no versions of the Yiddish word for penis to help us out, we have faith that Season 1 won't disappoint.
Perry plays a sportscaster who is dealing with the death of his wife and is forced by his boss (or so it seems from the pilot that NBC "sneak-previewed" after the Summer Olympics—which and is now available on Hulu) to attend mandatory counseling. For reasons that aren't exactly clear, instead of paying for therapy (he appears to be relatively well-off), he decides to attend day-time sessions of group therapy at what can only be described as a community rec-center (during the same time slot there seem to be a group of sci-fi/war re-enacters). Enter Schneider, the groups not-so-put-together leader (who we imagine will play some sort of love interest will-they-or-won't-the couple with Perry's character) who has no formal training (aside from Weight Watchers) to guide her. Hilarity will (we hope) ensue.
Jewiness: Unclear, we're guessing (hoping!) that Schneider is Jewish, but so far there's no proof.
Watchability: Channeling a bit of Chandler's sarcasm and throw in the hodge-podge friendships of Community, we're definitely giving this show a chance.
Who'd we miss and who are you looking forward to watching? Let us know in the comments.