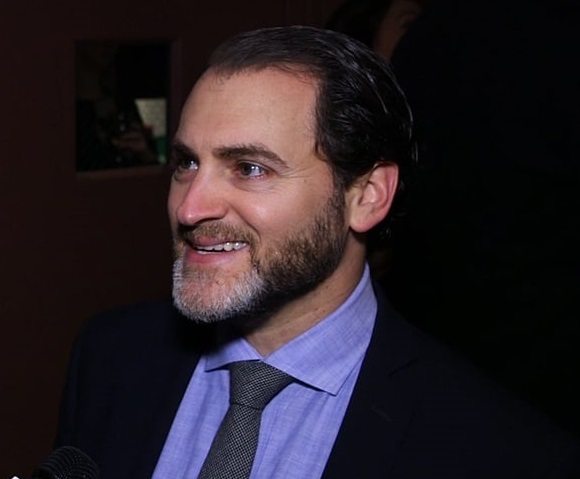 A jobbing actor toils in near-obscurity on the stage until two of the top filmmakers of the age choose him as the lead of their next semi-biographical, highly Biblical, ultra-Judaic dark comedy. It sounds like a Hollywood story itself (and, as with all Hollywood stories, is a little exaggerated—said actor had already been recognized for acclaimed turns in the likes of Long Day's Journey into Night and Martin McDonagh's The Pillowman), but Michael Stuhlbarg is a man who invites cliché: one scene wonder.
Keep an eye on this guy. There are no small parts, only small actors. Everywhere you turn lately, it seems there's another screen showing Stuhlbarg's face—expressive, kind, put-upon, dangerous—and with his end-of-year burst of Call Me By Your Name, The Shape of Water, and The Post in quick succession, it seems his star is finally burning brightly.
It has not been an easy road from that initial moment of onstage discovery to the now-omnipresent whispers of Oscar glory, however. Stuhlbarg first reached public consciousness playing the protagonist in the Coen Brothers' A Serious Man (chances are you've seen the film already, considering its status as new rite of passage amongst Members of the Tribe, but if not, think the Book of Job meets your Reform aunt's stories of confirmation).
Stuhlbarg's harried performance as Larry Gopnik was epiphanic, one moment belligerent, the next wide-eyed with confusion, and always hilarious. (It is even more remarkable when one views archival footage of the actor, who is soft-spoken and considerate, and whose professorial airs make it seem as if he just wandered out of a lecture on Shakespearean verse.) The role garnered praise for Stuhlbarg (and a Golden Globe nomination), but more importantly established an onscreen persona for the actor that, though tweaked from part to part, sustains his body of work as one of the premiere character actors of our time.
Consider the anatomy of a character actor: a face you remember out of the corner of your eye but a name always on the tip of your guy, aka, That Guy; a sub-marquee credit; a whiff of ethnicity; an easy hand for dialogue. If you catalogue a character actor's moments on screen, you'll often assemble a Rolodex of quirks and foibles, blemishes and flaws. These are the characters that test our imagination of how far humanity can stretch, and Michael Stuhlbarg is privileged to rank high.
In his next major role, he used every tool in the character actor kit to bring a cool-blooded menace to his portrayal of Jewish gangster Arnold Rothstein on the HBO drama Boardwalk Empire. A vampiric widow's peak and a pair of endlessly versatile eyebrows—doleful, perturbed, intimidating, aggrieved, judgmental—that should have won their own Emmy? Check.  A habit of smiling toothlessly while dealing threats? Check. A pocketful of quips? Check and check. It was the character's wit, and Stuhlbarg's capacity for combining levity with danger, that elevated his portrait from a pale Godfather rip-off. He is a jester, perhaps, but he is no fool.
There is a moment that encapsulates this balance: Rothstein has just finished discussing digestive affairs with his wife at the breakfast table when he receives a call from fellow gangster, Nucky Thompson. Holding the phone to his chest, he pitches a practice "Mr. Thompson," before settling in for another more authoritative "Mr. Thompson." The switch from family man to mobster, evident, with just two lines of a dialogue and a comical change of voice.
Since then, Stuhlbarg has mostly made his bones breathing life into biopic bit parts: a U.S. Representative during the debate for Emancipation (Lincoln), a studio boss and mover-and-shaker (Hitchcock), a record producer (Miles Ahead), an agent interested in boosting American standing during the Cold War (Pawn Sacrifice), an Apple inventor (Steve Jobs), and Edward G. Robinson himself (Trumbo). A lesser actor might feel wasted in these roles, but Stuhlbarg invests himself in every scene. Indeed, his dedication to his work is apparent—a recent Chicago Tribune interview noted that the actor sketches profiles of each character he plays, filling notebook after notebook. Yes, even the methodology of his preparation seems gentle—where other actors mail their costars dead pigs or submerge into alternative careers, Stuhlbarg learns to play pool, or perhaps, to the admiration of his Boardwalk Empire cast mates, tie a bow tie, on camera.
The pool-playing came in handy for his supporting part in last year's Miss Sloane, but it was the bow tie—and a mustache, again, worthy of its own Emmy—that once more valued his skills in FX's Fargo. Stuhlbarg is Sy Feltz, a shady hand-shaker spiraling, Kafkaesque, through a gauntlet of bad apples until he no longer recognizes his very world. And again, he gives a comedic performance for the ages. It is the flexibility of a stage actor blown up to heights and unafraid to scale the peaks and valleys of human expression. His face—a character actor's bread and butter—often stands in as punchline. Pathetic comedy is some of the hardest to pull off, and all season Sy was both the comedian and the butt of the joke.  When (spoilers) Sy eventually took his bow with a cup of poisoned tea, Stuhlbarg's absence was certainly felt.
Transformative and memorable, hard-working and unpretentious, the time is ripe for an actor like Michael Stuhlbarg. For too long has he wandered in the desert, watching from Nebo as his peers claim his prizes—and screen time. Perhaps this year, at last, he will cross into the Promised Land.
Image via Wikimedia