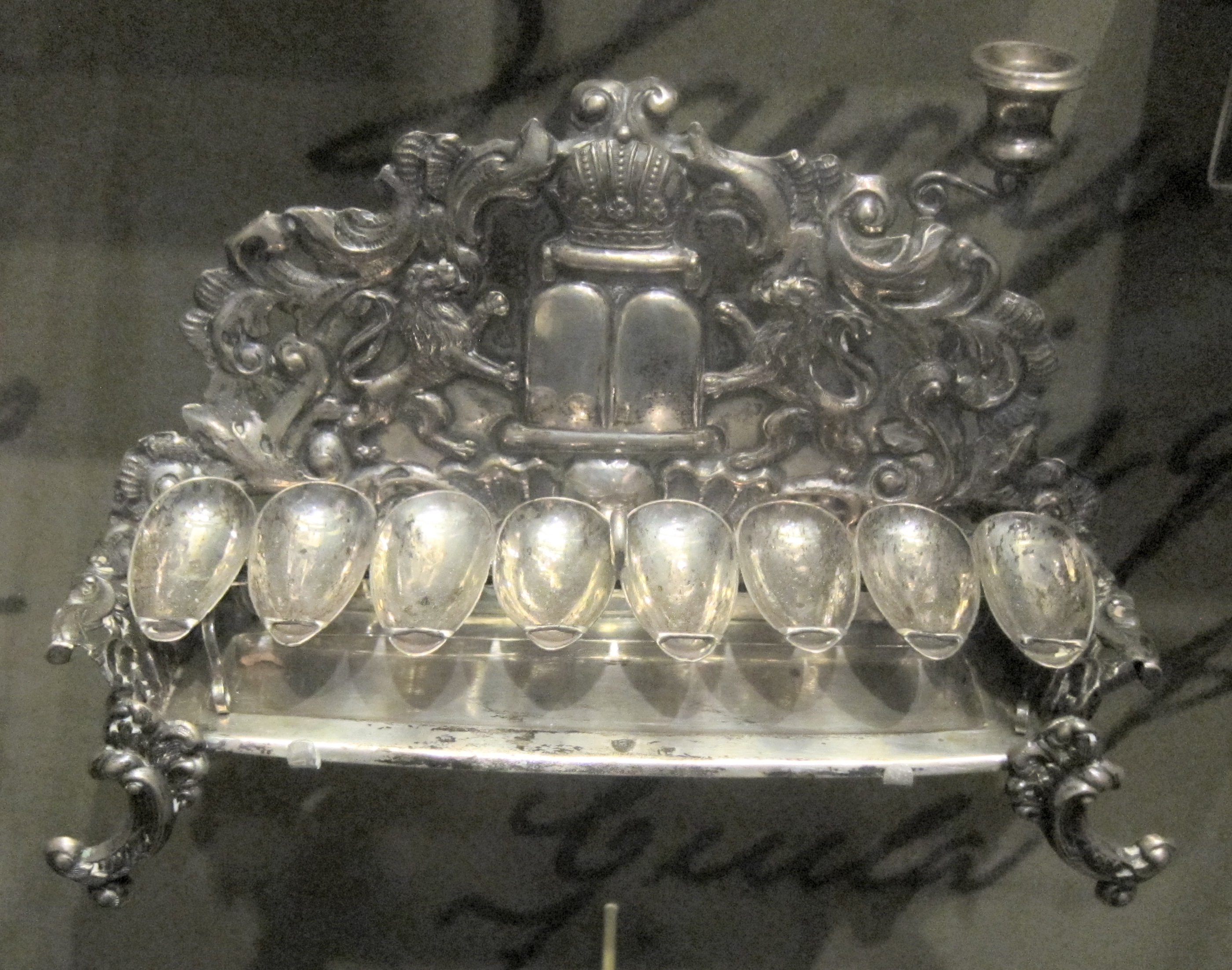 After my father died we had to clear the apartment he kept his office in, and my mother started collecting old menorahs from thrift stores. I still can't go past a window display with some old Jew's cast-offs without wondering when that was last lit, and how.
I saw the first on top
of a book case, hiding, funereal
and black as a cenotaph
tucked behind my father's photo.
The next was on the ledge
of the window and she showed it
– opening the tiny frame
in the heart that contained ten commandments.
The last one (recently acquired)
was stone in part, and green amethyst
(or look-alikes) bejewelled the cups
where the candles, if it were used, would be put.
Why she should collect the lamps
of the dead, who don't light their candles,
take them home instead and light
just her own one  I could not say.
But she stands running her hands
on the candle cups. Her doctor mentioned:
"You can't just leave them. It's a call."
And my mother agreed, bought a new set
and when she lights it is the first
of at least ten that gleams
in the gloom of the back room.
It's a cold room.
I notice my father's room;
their bedroom, where he died, a sad room.
It has light now and flowers
but still you can't help hearing him, groaning.
She says, "There really aren't
that many lamps in junk shops,"
as more and more Jews die
and their sons clear their house for scrap.
She says, "Only this one, and that.
You can't leave them. In shops
You have to rescue them." She hangs
a hand on the brass candle cup.
We take candles wherever we go
something requires that we light
before full dark – it isn't law,
it is the need for someone else to see the match.
If you find a lamp – please do not leave it –
somehow you'll find your way back
to when you were at home, and light was with someone
and a spark fell before dark.
Atar Hadari's "Songs from Bialik" was a finalist for the American Literary Translators' Association Award. His Pen Translates award winning "Lives of the Dead: Poems of Hanoch Levin" is out from Arc Publications in January 2018.
Image via Wikimedia