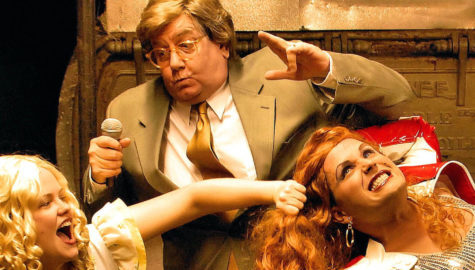 A new year— a chance at new beginnings, and most importantly, a new round of Broadway and off-Broadway shows. The fall season brought us singing sponges, live goats, and Amy Schumer. What will the next months bring, and, of course— is it good for the Jews?
It depends on what you're looking for. While musicals continue to boast Jewish stars (Elsa in the upcoming Broadway production of Frozen went to Camp Ramah!) and creators (shows by writing teams Rodgers and Hammerstein and Lerner and Loewe are being  revived), if you want to look for overtly Jewish content onstage, you're probably going to need to see a play. But on Broadway and off, you'll have plenty of options, first off-Broadway, and later on in the season, on the Great White Way itself:
Off Broadway:
In the Body of the World (begins performances January 16):
While the play may not have much Jewish content, it is a new autobiographical piece (based on a recent memoir) by an artist of Jewish descent— Eve Ensler, the creator of The Vagina Monologues, has a one-woman show about becoming deathly ill while doing advocacy work abroad.
Jerry Springer the Opera (January 23):
This one is a revival, and, yes, an opera. It actually has fairly Christian themes, but it is what it says on the label: an opera about Jewish television personality Jerry Springer.
Amy and the Orphans (February 1):
This new family drama features a bickering bunch on a road trip on the Long Island Expressway following the death of their father; while the degree of Jewishness is not yet clear, one character is a Jewish convert to Christianity, so it follows that the rest of his family is probably of Jewish origin as well.
Admissions (February 15):
This play is the latest from Jewish writer Joshua Harmon, the mind behind Bad Jews and Significant Other. It features a woman trying to diversify a prep school and explores larger questions of ideology and privilege. The main character's name is Sherri Rosen-Mason, and like many Harmon protagonists, she is a secular Jew.
Broadway:
Angels in America (February 23):
Tony Kushner's famous two-part play on New York and the AIDS crisis is revived in New York, by way of London. It features the ghost of Ethel Rosenberg serenading a dying Roy Cohn in Yiddish. Enough said.
Travesties (March 29):
This production is another revival— of a 1974 play by Jewish playwright Tom Stoppard. One of its three protagonists (the other two being Lenin and James Joyce) is Tristan Tzara, the Jewish co-founder of Dadaism.
Photo of Jerry Springer the Opera via Wikimedia