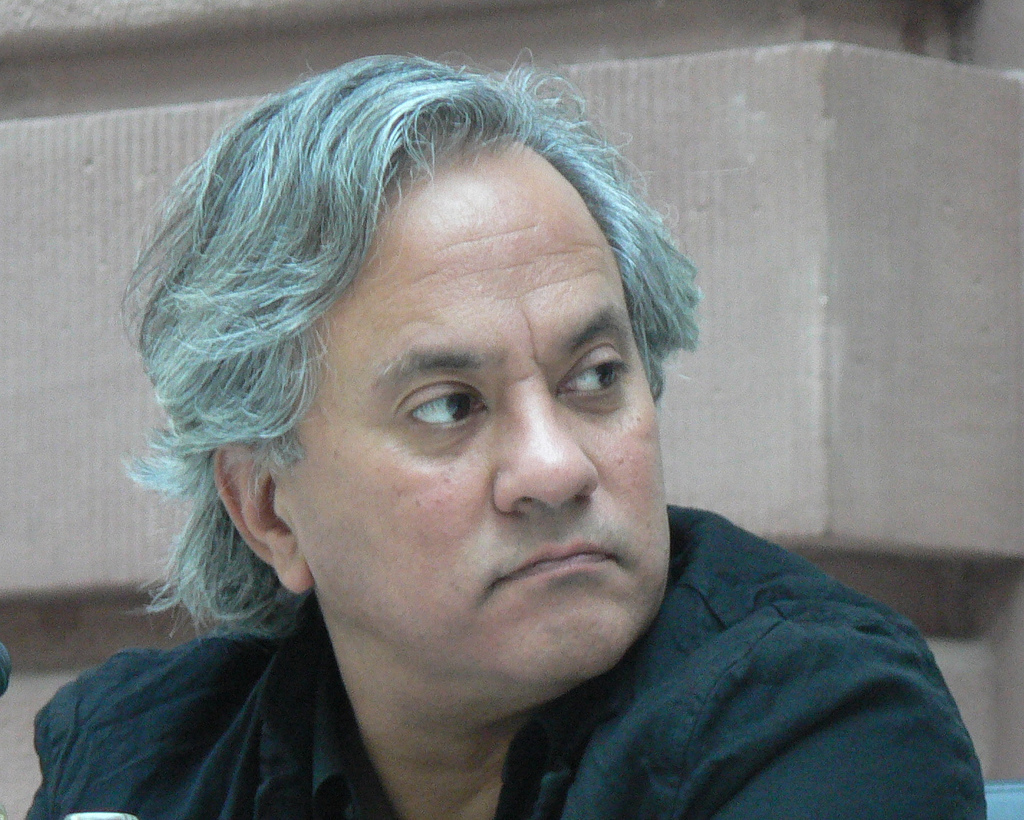 Only one man has the time for highly publicized feuds over the color pink, and to win awards for representing the Jewish community.  That man is Anish Kapoor.
Though first of all, it's Sir Anish Kapoor to you. He was knighted a few years back.  That was for his work as a visual artist; he's known for decadent, almost tactile works rich in light, shape, and especially, color. He has an upcoming installation in Brooklyn, where he's going to create a water funnel that looks like the endless dark void we all feel we're falling into these days.
His career has also intersected with his Jewish identity; he's exhibited at the Jewish Museum in Moscow in part as a political statement, for example. Most notoriously, in 2015, his work at Versailles was defaced several times with anti-Semitic graffiti, and when Kapoor elected to not remove it to highlight underlying problems, a right-wing politician successfully sued to force him to cover up the vandalism.
But Kapoor has been trending in pop culture recently for other reasons; he became Internet famous earlier this year for his famous color wars (and we don't mean Maccabiah). They're all in good fun; Kapoor acquired the rights to a pigment known as the darkest black in the world (queue more jokes about the state of current events). As revenge, another artist, Stuart Semple, manufactured what he claims to be the pinkest pink, and which he forbade Kapoor from getting anywhere near.
In fact, in order to even buy the pigment, purchasers needed to affirm that "You are not Anish Kapoor, you are in no way affiliated to Anish Kapoor, you are not purchasing this item on behalf of Anish Kapoor or an associate of Anish Kapoor." (Anti-Semitism!)
How did Kapoor respond? Oh, he got some of that pink: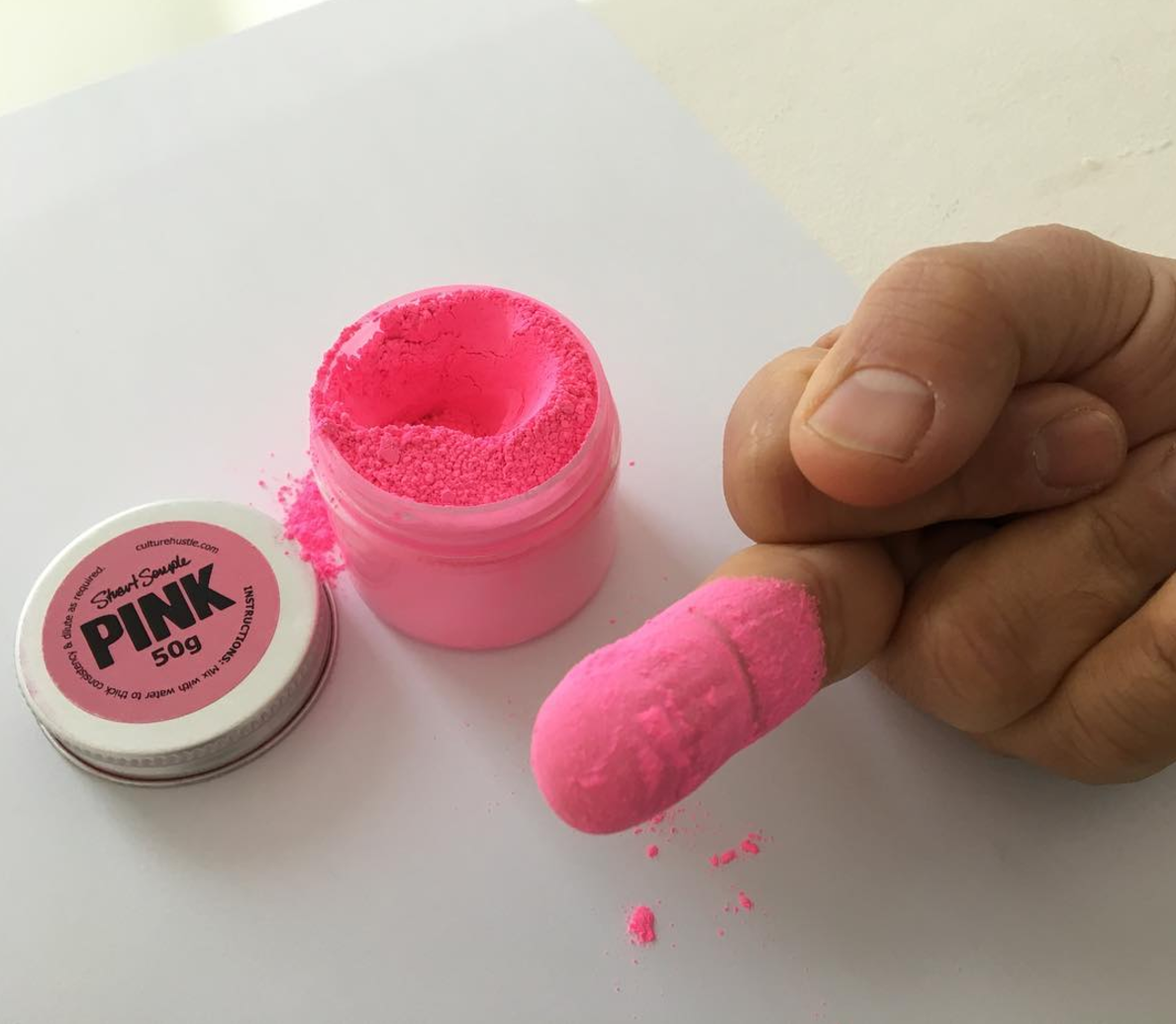 The game continued with the forbidden "Glitteriest glitter," and so on. It was a delightful back and forth of petty. Also there were the memes: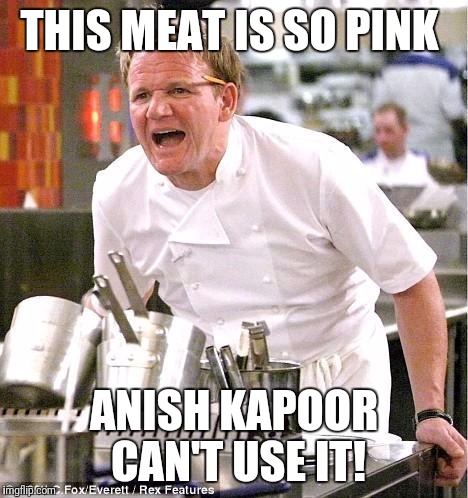 Despite the likes of Tumblr leaning wholeheartedly into this fight, the Internet largely doesn't know that Kapoor is Jewish; he was born in Bombay to a Hindu father and a Jewish mother born in Baghdad and raised in India's Jewish community in Pune (where her father was a cantor). Unfortunately, most articles summarize Sir Anish as having an "Indian father and Jewish mother," but that's frankly reductionist and erasing the nuance of his heritage (also, Indian clearly doesn't necessarily mean gentile, duh). Kapoor also lived in Israel for a time as a young man, working on a kibbutz, but has lived in the U.K. for decades.
He's also this year's recipient for the Genesis Prize, awarded to members of the Jewish community who have excelled in their fields and improved the world. Kapoor has said he will use the $1 million the prize entails to help refugees. He said:
"Jewish identity and history have witnessed recurring conditions of indifference, persecution and Holocaust. Repeatedly, we have had to repossess ourselves and re-identify our communities. As inheritors and carriers of Jewish values, it is unseemly, therefore, for us to ignore the plight of people who are persecuted, who have lost everything and had to flee as refugees in mortal danger. Outsider consciousness resides at the heart of Jewish identity and this is what motivates me, while accepting the honor of the Genesis Prize, to re-gift the proceeds to refugee causes."
So just consider this your reminder that the subject of your Tumblr jokes is also a Jewish person of color winning awards for his philanthropy. Way to contain multitudes, Sir Anish!
Image of Kapoor via Wikimedia. Image of his middle finger from Instagram.