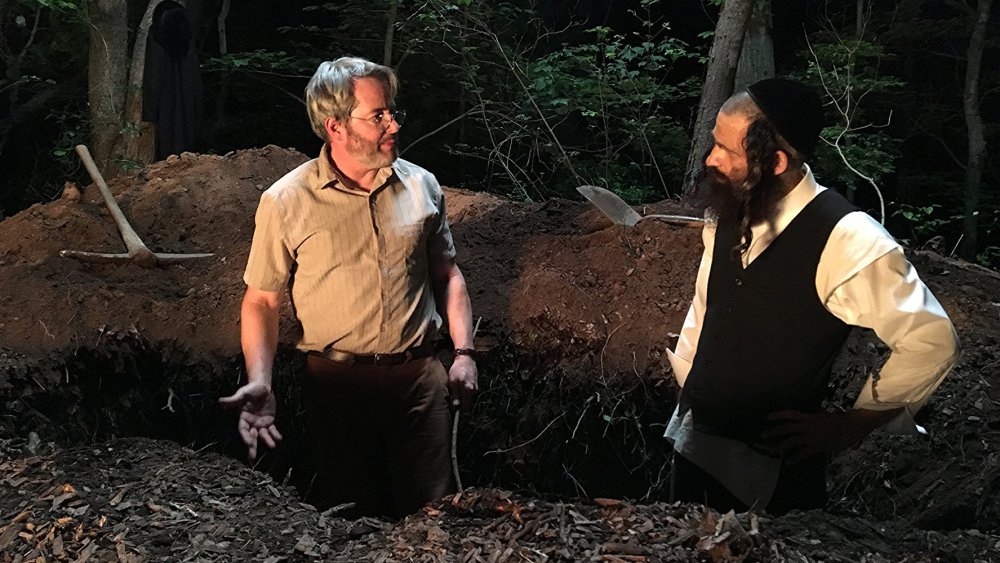 The Hasidic population is portrayed occasionally in film and television, usually as a way of demonstrating extremism, or exploring how someone is grappling with breaking the fundamental rules of observant Judaism. It's not too common to find a self-described "dark buddy comedy" where one buddy is a Hasidic cantor and the other is Matthew Broderick, but that's exactly what one film showing at this year's Tribeca Film Festival features.
Shmuel, played by Géza Röhrig, who starred as the title character in the Oscar-winning Son of Saul, has just lost his wife to cancer and doesn't know what to do next. He consults his rabbi after having dreams about how her body will break down in the earth, and nothing he hears makes him feel any better. Realizing that he needs to know exactly how her body is decaying so that her neshama can safely leave, he wanders outside his community to find a scientist. Though Albert, a community college professor, is hardly the expert in such things, Shmuel refuses to relent, and the two ultimately begin a lengthy experiment that involves burying a pig to track its decomposition process.
Would a Hasidic man ever go to a non-Kosher Chinese restaurant to purchase a dead pig, then transport it in his car before burying it in the ground himself? Probably not. Asked at a Q & A following a Tribeca screening, director Shawn Snyder said that he frequented "Hasidic speakeasys" where those who have either left or have one foot out of the community gather, and that the film had both a Hasidic advisor who consulted on the script and another on set. Röhrig, who is observant, joked, "Kids, don't try this at home," explaining that this is not an educational movie but rather one that takes certain artistic liberties for the sake of art, fictionalizing elements but disciplined enough to never approach blasphemy.
Shmuel and Albert definitely don't become fast friends, and it's clear how different the worlds they come from are. Shmuel stumbles into the closest college he can find looking for a scientist, asking the female receptionist if he can speak instead with a man, and he guilts Albert into helping him by angrily explaining how much he has sinned by even coming to such a place. Albert, seeing Shmuel's garb, repeatedly refers to him as "Rabbi," and when he does learn his name, he calls him "Shmel" for half the film. It's among the wildest, unlikeliest friendships ever concocted on screen, and, however far-fetched it may be, there are glimpses of reality to be found within it.
Shmuel is the one who can't move on from his wife's untimely death, but his two sons, Noam and Naftali, are also featured in a subplot that finds them trying to dispel the rumor that their father has been possessed by a dybbuk. Naturally, this involves breaking into the principal's office at their yeshiva in a scene reminiscent of A Serious Man to steal a copy of the old black-and-white film The Dybbuk and then blowing a shofar at their father's feet while he is sleeping to urge the spirit of their mother to let him go. At one point, when Shmuel takes his sons out on the water to tell their mother that he loves them, one protests, "this isn't Jewish." Much in this film may not seem to be, but it's all about grappling with loss as people.
Snyder shared his own story that inspired the making of this film. Nine years ago, he lost his mother, and though he comes from a Reform background, there are still specific mourning rituals in place that he described as "psychologically profound." He still found his own grief "spilling outside the bounds of that requirement" and, nine years later, he still mourns. He had difficulty with the fact that he never felt comfort at her grave, and compared the Jewish timeline for grief with wondering what his mother's body looks like after seven days, or after a month. He notes that he is very squeamish, and that this film, which involves some grisly imagery, is the least likely product he could have imagined.
Röhrig, who said that he could relate to the character of Shmuel because, sooner or later, everyone goes through this process, cited the aninut period between death and burial as especially holy, explaining that, for Shmuel, it spills over beyond twenty-four or forty-eight hours. He fielded one particularly interesting question from an audience member who shared her experience of being Christian and having her mother's body on display during the wake. He responded that it is forbidden in Judaism to show the body, likely because the rabbis wanted to "keep it real"— make facing the death of a loved one not a visual experience, but an inner struggle.
This is an indisputably unique, creative interpretation of what it means to grapple with loss, one that turns out to be quite entertaining thanks to the pairing of Röhrig and Broderick. It hasn't been picked up for distribution just yet, but you can catch it again tonight or this Saturday night at the Tribeca Film Festival.
Image via the Tribeca Film Festival