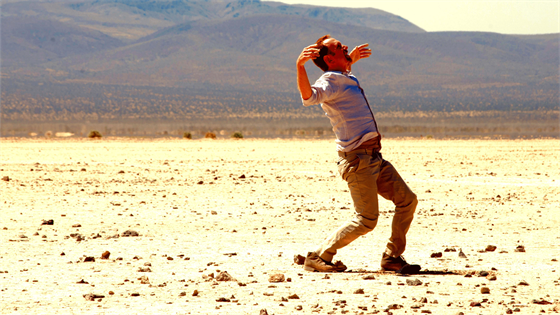 There are so many intricacies to the existence and the politics of the small Middle Eastern country known as Israel that it's nearly impossible to find someone who feels exactly the same way you do. There are those who condemn Israel's military occupation of the West Bank and Gaza as apartheid and those who liken all Arabs and Palestinians to terrorists, and plenty of those at various points along the lengthy spectrum that divides the two extremes. In a stirring new documentary, based on a 90-minute one-man play, one actor and writer brings every opinion to one place, and it's a formidable experience.
To truly capture every side and angle, Aaron Davidman portrays seventeen different characters, all with unique backgrounds and perspectives on what Israel means to them. Davidman changes his clothes occasionally, and sometimes his accent or inflection too, but this qualifies as a 90-minute lecture, rant, verbal exploration – however you want to define it. Davidman speaks quickly and with intention, jumping from one character to another with no warning and with furious intensity.
Davidman, an American Jew who doesn't even speak with an Israeli accent, may not seem qualified on paper to analyze the situation. But it's clear within the film's opening minutes during an immensely powerful extended scene in which he covers the full spectrum of views that he absolutely knows what he's talking about. He offers no judgment and presents all facts and opinions as such without putting special emphasis on any of them. He begins by trying to pinpoint the origin of this whole conflict, using the phrase "you might say" to suggest "The Catastrophe" of 1947 or "The War of Independence" in 1948 or further back when the British intervened during World War I. He intermixes tragedies and terrorist attacks which the Palestinians and the Israelis each claim without any warning, citing an irrefutably long list of potential causes for this permanent unrest.
Davidman has answers for every question and assertion – not a definitive breakdown of who is right or who is wrong, but rather the counterpoint that someone who does not agree would inevitably offer. One character he plays blames the Palestinians for inciting terror, and another shoots back that the settlements are the problem. About halfway through the film, Davidman encounters himself seated at the other side of the table and engages in a heated debate about the merits of Hamas and Fatah and who the true threat really is. One version of Davidman interrupts the other to note that he can read him like "a playbook for the American Jew," to which his debate partner shoots back, "You're an American Jew!"
This film drudges up a lot of problematic thoughts and elements that make the question of how to resolve this worsening conflict seem all but impossible. A reenactment of a pro-peace rally quickly turns to chants of "Death to the Jews!" as Davidman chimes in with the quiet objections of the peaceful protester who feels out of place and trapped when that becomes the prevailing sentiment, overtaking the true desire for harmony among peoples.
Just when it seems like there is some topic or argument that has not been mentioned, Davidman ensures that it comes bubbling up to the surface. The subject of the Holocaust becomes contentious when one Davidman character tries to anticipate his opponent's next point and earns contempt for knocking down parallels between the Jews and the Nazis by reaching even further than his opponent had planned to, stopping short at the notion that the Palestinians have been oppressed and subjugated for fifty years. In rare moments like that, all of Davidman's personalities take a moment to pause and acknowledge that not every argument can be addressed in a way instantly that feels truly complete or right.
Throughout the ninety minutes of director Dylan Kussman's film, Davidman creates a number of characters with backstories that explain their views and the many events in their lives that brought them to their current place and perspective. Inhabiting and fleshing out those roles proves undeniably intriguing, and Davidman is particularly chilling when he begins passionately singing, chanting both Muslim and Jewish prayers with a convincing familiarity and spiritual commitment. Those moments, however, are not quite as strong as when Davidman simply spits out information and presents facts he has heard in his amassment of research for this film.
This film's title has biblical origins related to wrestling with God, and the choice of Jerusalem as what is to be wrestled, since this film addresses all of Israel, is particularly poignant. A visit to the Wikipedia page for Israel, the most editable of all electronic sources, states numerous times that Jerusalem is the capital of Israel but that it is internationally unrecognized. Jerusalem is a hot topic that encompasses all of what Israel is, and for many is representative of the country as a whole.
There is no doubt that Davidman is still wrestling. By laying all of these clashing conceptions out and speaking them to an audience, Davidman underlines the importance of conversation. If just one person can come to at least hear what someone else says, perhaps there's hope for peace. Even if that may not be possible or realistic, this is a fascinating character study of an immeasurably large population with a riveting central performance.
Wrestling Jerusalem will have its World Premiere at the San Francisco Jewish Film Festival on July 27.
Image source: Aaron Davidman in Wrestling Jerusalem