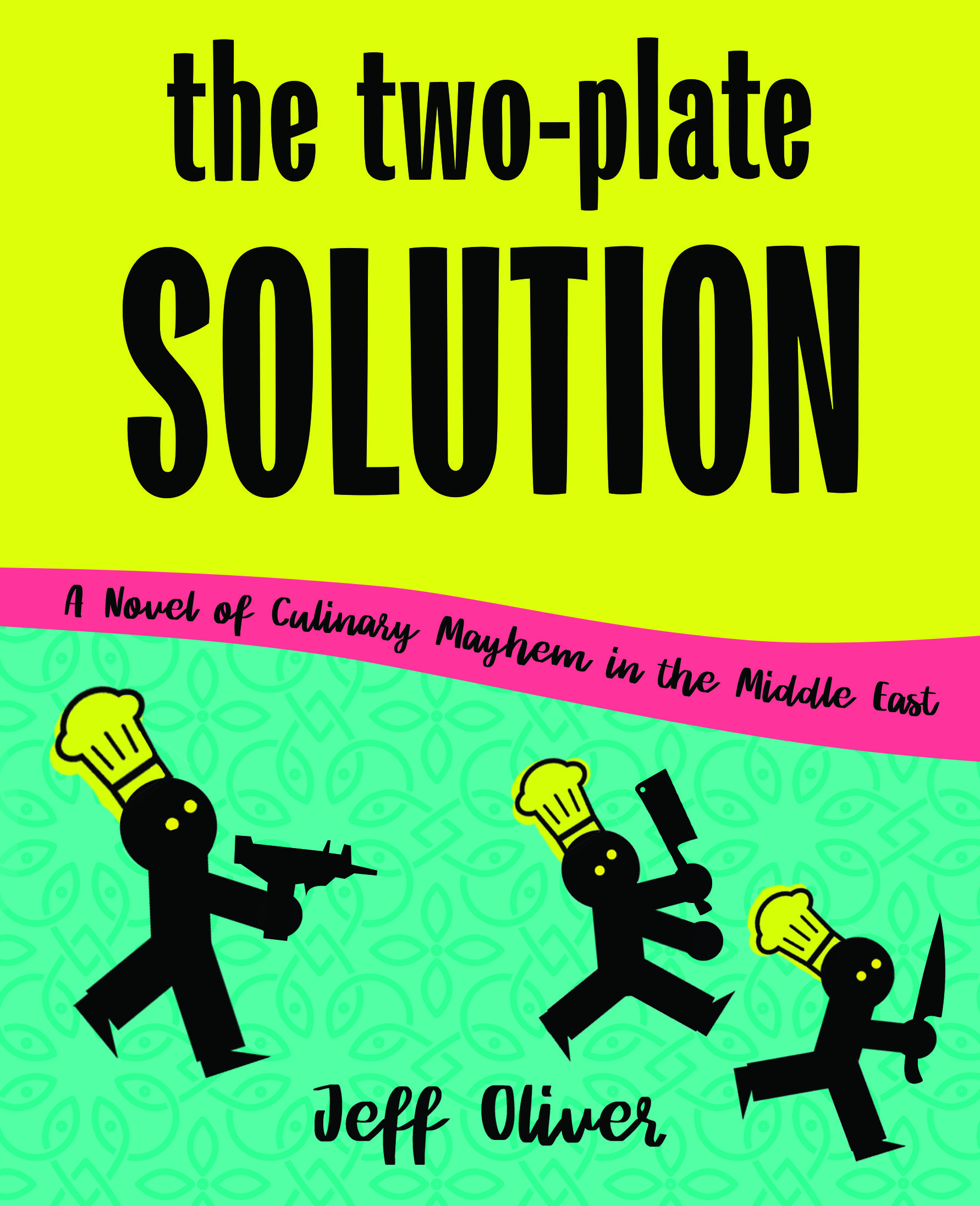 If you're looking for a mouthful, try the title—or the contents of—The Two-Plate Solution: A Novel of Culinary Mayhem in the Middle East, by Jeff Oliver (Bancroft Press). Think of it as a thriller/satire/culinary guide/behind-the-scenes of reality TV.
The story begins simply enough— Sara Sinek is a showrunner at an American cooking competition program called National Dish-aster. They're filming in Israel, and someone at the network thinks it would be a great plot-twist to bring in fake terrorists to up the stakes. The only problem is, a group of Palestinians, accused by Israeli authorities of a deadly terrorist attack, quickly crash the set, and hold everyone hostage for real.
If you think you know how the story will shake out, or the agenda of its author, you definitely, absolutely do not. The book moves at a breakneck pace, with so many plot threads and characters it's more comparable of Game of Thrones than Cutthroat Kitchen, and there are zigs and zags all along the way. Nobody is who they seem, and the stakes (steaks? The book inspires food puns) change constantly.
The novel manages to be both cynical and naïve at the same time— on the one hand, it presents the Palestinian-Israeli conflict as a violent quagmire (it is), but then emphasizes that the things that bring us together may be stronger than that which divides us… like a good meal. Also, for all its archetypal reality-show contestant characters, it does want us to care about what happens to the cast of National Dish-aster (season 5).
Oliver, a Bravo TV executive, has worked on his share of reality shows, and know how they tick— particularly, where real-life ends, and producing begins. He has imbued this knowledge into the book with humor, highlighting the absurdity of manufacturing, while also tightly controlling, drama.
As for the cuisine described in the book, it's as much of a character as the hapless network executive who picked the wrong time to visit the set. In fact, you might not want to read on an empty stomach. Oliver used to work at Food Network, and from coffee-braised brisket to mouthwatering halvas to tahini-infused charoset, he serves up descriptions of all sorts of sorts of mouthwatering, cross-cultural treats.
Admittedly, the final twist at the end of the book is a bit difficult to follow. With all the cards finally on the table, it's not clear how who double-crossed whom, and when. But like a good meal, it's about the journey, far more than the sweetness of dessert. And The Two-Plate Solution is full of tasty bites all along the way.
Image courtesy Bancroft Press