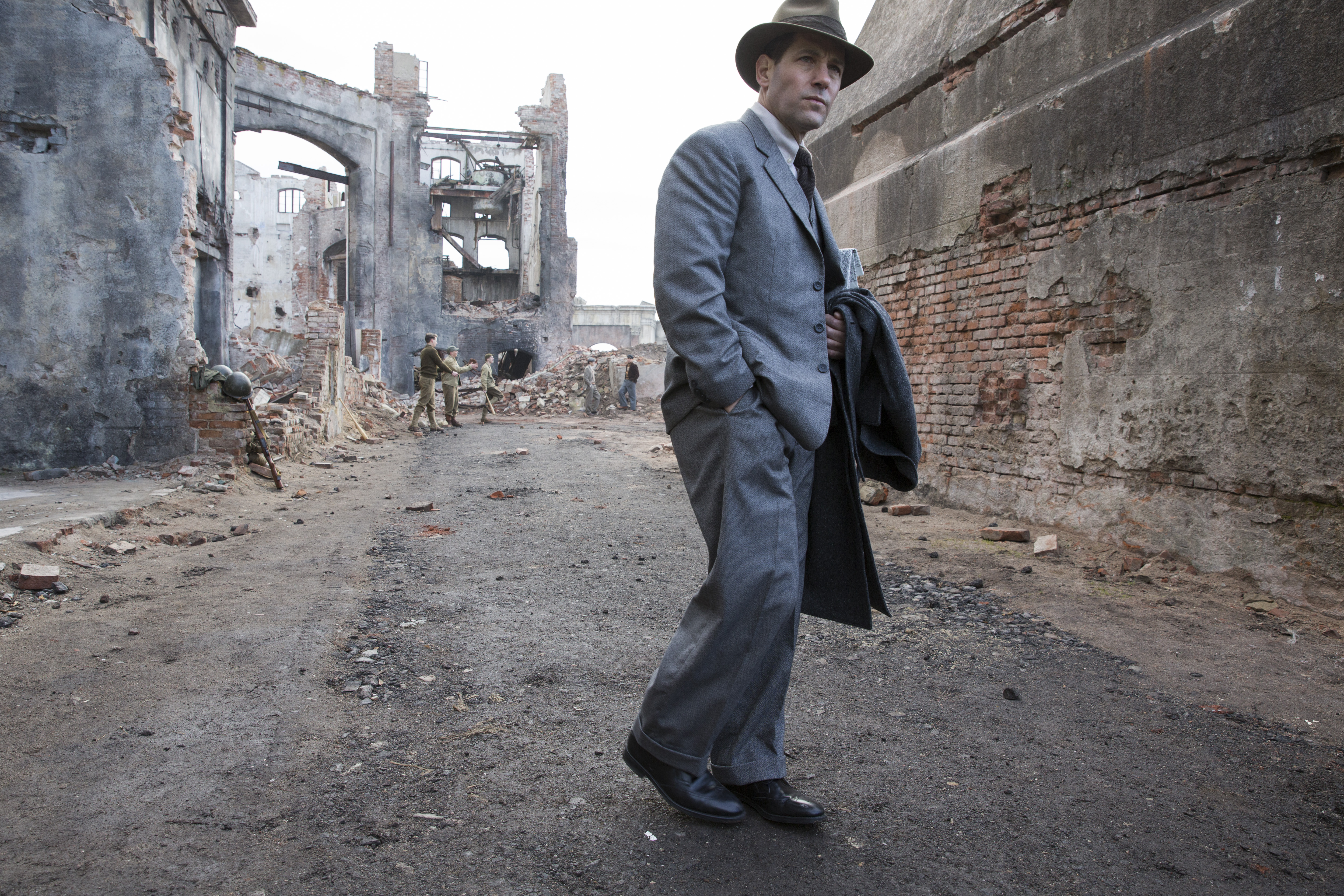 The opening titles of the new film The Catcher Was a Spy set the scene in 1938, when the Nazis tapped physicist Werner Heisenberg to build an atomic bomb. "In response, the U.S. government sent a Jewish baseball player to assassinate him," reads the subsequent cue card.
That premise conjures up two well-known—and extremely different—Jewish action films in relatively recent memory. The first is The Hebrew Hammer, the absurd send-up about a Jewish superhero saving Hanukkah from the son of Santa Claus, best remembered for its protagonist's signature catchphrase, "Shabbat Shalom, motherfucker!" The second is the Oscar-winning Inglourious Basterds, Quentin Tarantino's violent and entirely fictionalized tale of a group of American soldiers, including one nicknamed The Bear Jew, who operated during World War II hunting and brutally executing Nazis.
Neither of those is a good barometer for what this film is, and it's not just because this one is based on a true story. Nicholas Dawidoff's 1994 book The Catcher Was a Spy profiled Moe Berg, a popular baseball player known for his intellect, knowledge of world events, and mastery of multiple languages. In addition to his fifteen-season career as a catcher, Berg was recruited by the Office of Strategic Services, which would later become the CIA, to use his considerable skills off the field to combat the threat of a Nazi victory during World War II. Popular Jewish actor and comedian Paul Rudd portrays Berg in what may well be the most straight-laced performance of his career.
There's really no signature moment in which Berg gets to execute some sort of symbolic Jewish revenge on his Nazi targets, and his Judaism, while referenced as the hook of the film, doesn't come up much. Instead, it's his sexual orientation that gets more attention, with Berg not conforming to societal expectations of a nuclear family and pursuing men, even if his era can't acknowledge or respect that. What's most interesting about Berg's undercover operations is that he goes in without hiding his celebrity status since no one would possibly suspect that a baseball catcher would be serving as a spy for the American government, gathering crucial intelligence while in town for a highly-publicized sports visit.
The best source of comparison for this film is The Monuments Men, George Clooney's light-hearted ensemble piece about a group of Allied soldiers sent to save precious art during World War II. Like Clooney's film, this one seems to take place within its own little bubble in which its characters seem to be impervious to harm and to events happening around them, narrowly pursuing their aims without much interference from enemy troops or other focal points of the war. The notion of a team dedicated to protecting artwork when so many humans lost their lives during the Holocaust didn't go over so well with some Jewish audiences, and The Catcher Was a Spy at least presents a more serious mission. Berg's objective is an important one, since his actions may directly prevent the Nazis from a devastating accomplishment that could change the course of the war.
Those expecting Rudd to transform into Ant-Man and punch a Nazi scientist in the face will be sorely disappointed with this film, but they will find a nuanced and straightforward drama about an unexpected spy who was very good at his job. Rudd is joined by a number of prominent actors, including Paul Giamatti, Connie Nielsen, Sienna Miller, Guy Pearce, Tom Wilkinson, Giancarlo Giannini, and the film's comedic standout, Jeff Daniels, in this slow-burn period thriller from director Ben Lewin, whose previous credits include The Sessions.
The Catcher Was a Spy opens in theaters and on demand this Friday, June 22.
Image: Paul Rudd as Moe Berg, in Ben Lewin's THE CATCHER WAS A SPY.  Courtesy of IFC Films. An IFC Films Release.