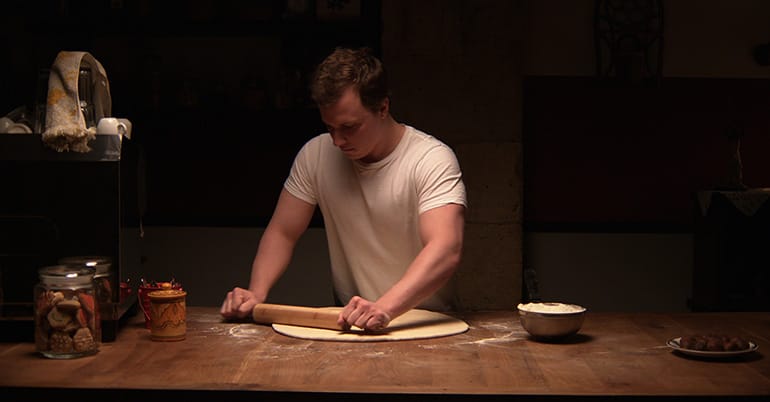 Mourning is a subject frequently featured in Israeli cinema partly due to the number of Jews in the country and the way in which even those who are secular are familiar with the basics of what happens ritually after a person's death. The period of mourning allows for transition from an unthinkable loss to a new reality, providing a system of healing that isn't offered in the same way in other religions. Recent films like Longing, Foxtrot, and One Week and a Day have dealt with complicated instances in which the process of sitting shiva is affected by specific circumstances. The latest Israeli film to be released in the United States adds considerably to the grief with its own portrayal of an unusual loss.
Thomas (Tim Kalkhof) is a baker living in Berlin who begins an affair with a visiting Israeli businessman named Oren (Roy Miller). Whenever he comes to town, Oren stops by Thomas' shop for a delectable treat, making sure to pick one up each time to bring home to his wife, Anat (Sarah Adler), and his son Itai (Tamir Ben Yehuda). When Thomas learns that Oren has been killed in a car accident back home, he travels to Jerusalem and visits Anat's café, keeping his relationship with Oren a secret. After Anat hires him as a dishwasher, Thomas begins to make some of the delicacies he used to create on a daily basis in Germany, building a relationship with Anat in the process that can somehow help him feel closer to the love that they've both lost.
As usual, English is the universal language in this German-Israeli coproduction, with only the late Oren speaking both German and Hebrew fluently. Thomas is a man of few words to begin with, and he's someone who listens carefully, taking his time to heed the instructions of those around him and say nothing he doesn't need to. In the course of his acclimation to Israel, however, he does experience an unexpected obstacle as a result of his accidental violation of kashrut laws. When he first bakes cookies as a birthday surprise for Itai, he is admonished since his unsupervised utilization of the oven jeopardizes the kosher status of the café.
Anat repeatedly states throughout the film that she is not religious and doesn't want to be religious, fighting back against her friend Moti (Zohar Shtrauss) for questioning her hiring of a German employee and her willingness to let him keep cooking. When she invites Thomas to come to her home for Shabbat dinner and he quickly offers not to bring anything homemade, she responds that her home isn't kosher. Subtle commentaries about the kashrut industry in Israel rightfully take a backseat to this sweet story of searching for solace in unexpected ways.
The food in this film takes a supporting role, but it still occasionally reaches the level of a film like Chef. Watching Thomas make pastries is a delight, and it's clear that all who taste them are experiencing the same sensation that visual montages of pies and cakes create for viewers of the film. Either the food portrayed on screen really was that good, or this film's stars are incredible actors for making each bite seem truly and incomparably delicious.
Sarah Adler may be familiar to American cinephiles for her starring role in Aya, the Oscar-nominated short film about an unplanned car ride from Ben-Gurion Airport, or her performance in the well-regarded Israeli film Jellyfish. She and German actor Tim Kalkhof make a great pair, demonstrating a chemistry that isn't quite romantic but rather based on a shared sensitivity and positive expression towards the world.
Though this film is rooted in loss, it's a sentimental, lovely story that feels particularly wonderful at this moment in time. At its purest, it's a film about two people brought together by a love cut short which just happens to be the same for both of them. The lack of a proscribed end point or typical romantic arc makes it a particularly wondrous experience, equally melancholy and hopeful, and plentifully appetizing at all times.
The Cakemaker opens in New York and Los Angeles this Friday, June 29th, with more cities to follow in July.
Still from The Cakemaker