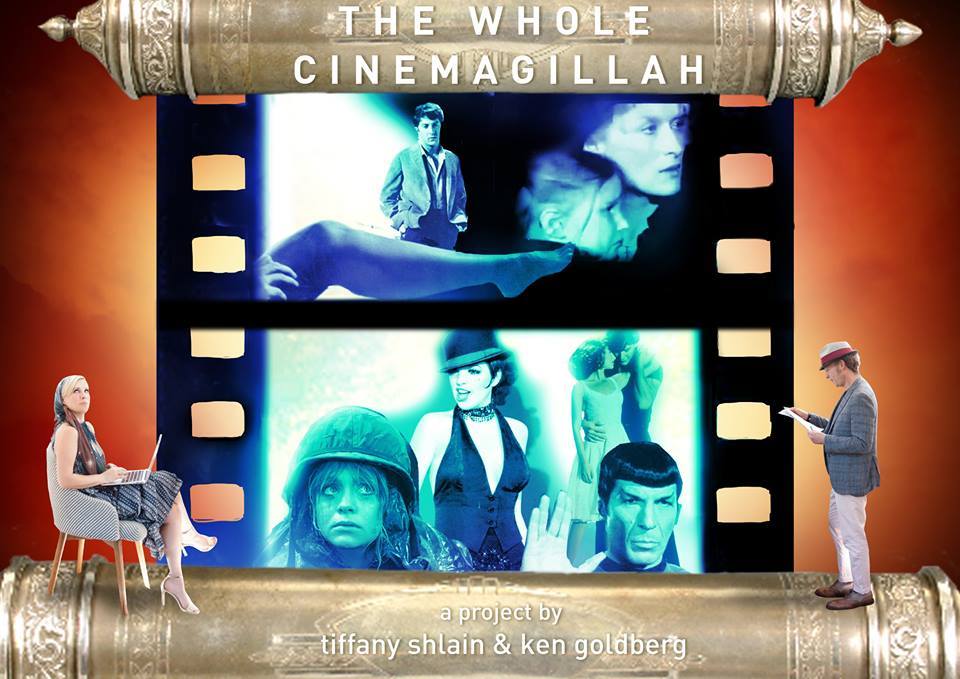 The National Museum of American Jewish History hosts a residency program called OPEN for Interpretation that invites a diverse array of artists and thinkers to contribute their perspectives on the Jewish American experience. Emmy-nominated filmmaker and Webby Awards founder Tiffany Shlain and UC Berkeley artist and robotics professor Ken Goldberg are the current artists, and last night they premiered their short film, The Whole Cinemagillah, their best effort to capture Judaism in America as shown in film and television over the course of the past century. Clip ideas and submissions were – and still are – welcome for this truly collaborative project. Jewcy had the chance to speak with Shlain and Goldberg as they prepared for the big night.
Jewcy: How did you become involved with OPEN for Interpretation and the National Museum of American Jewish History?
Shlain: I met Josh Perelman [Chief Curator and Director of Exhibitions & Collections at the museum] at the Future of Storytelling conference a few years ago, and he asked us to do this artist-in-residency program. We did a film together ten years ago called The Tribe that explores the American Jewish experience through the history of the Barbie Doll. We came to the museum and saw an exhibit about the history of Jews in film and TV and Vaudeville, and we knew we wanted to work on this.
Goldberg: The museum is new and elegant. It's chronological on multiple floors tracing the letter from George Washington to modern times. OPEN for Interpretation invites artists in from outside to provide some sort of response – cabaret to photograph to anything else – that engages with their exhibit to open it up for new interpretations.
Jewcy: Had you seen other films or books that covered this topic?
Shlain: When we first came up with the idea to do it, we found so many articles and a couple books, but nothing like a montage all together of most of the clips that we thought would be very compelling to see. So much written, but not visualized.
Goldberg: We found a lot of great clips of these Jewish moments but hadn't found anyone who had put them together.
Shlain: There was no comprehensive list. There were plenty of lists like The 10 Best Jewish Moments in TV, but not one exhaustive list.
Goldberg: We were very conscious that for a lot of young people, the digital generation, their attention span is geared around something that only lasts about 10 minutes. We wanted to make something compact to get conversation started.
Shlain: There was something powerful about the way the way Jews are represented and represent themselves in this 12-minute gestalt. We wanted the whole pastiche, the evolution of representation.
Jewcy: What was the most surprising clip you received?
Shlain: The clip of Frank Sinatra from The House I Live In. Towards the end of making it, someone found this clip from his movie about anti-Semitism which I just didn't expect to exist.
Goldberg: I had never seen The Believer with Ryan Gosling. Looking back, I found that to be incredibly riveting and powerful.
Jewcy: Were you pleased with all of the clips and recommendations you received, or were you hoping to find something more?
Shlain: As a woman, I found most of the woman characters very stereotyped, whereas the men were very nuanced. In the end, it couldn't be 50/50 screen time – there was so much more for men. This is an evolving project. There is a booth at the museum where people can add their own favorite moments, and a Facebook where we've gotten over 20,000 people participating. We hope to add to this and make a new version.
Goldberg: We didn't want to have a bias, or come at this with an axe to grind. It's actually a really complex tapestry that's opened up a lot in the past 20 years.
Shlain: The first film we showed is from the 1920s. It's interesting to see how much we've revealed of our true selves in the past 100 years. Back then, it was very veiled and hidden. Seeing that evolution is very interesting.
Goldberg: In 2012, the book The New Jew in Film talks about a "Jew-aissance." It's a perspective on the stereotype. We get both irritated and insider pleasure from the stereotype – we can reclaim it.
Shlain: It's like how Jews can tell jokes about Jews, but others can't.
Jewcy: What is your favorite clip, and why?
Shlain: that's like asking for a favorite child. I will never forget seeing Private Benjamin when he lists all of the 10-15 things about him that are very Jewish and then says, "I'm Jewish." Then in the next scene they're having sex.
Goldberg: The Believer was originally very long as part of the film, now it's not even in there. He does a prayer and then goes into an amazing monologue, but as the film got shorter and shorter, it didn't fit.
Shlain: We loved it so much it didn't even make it into the movie! The more we cut down the clip, the less it was contextualized. We couldn't do it justice unless we spent three minutes on it.
Jewcy: What's next?
Shlain: We're excited to start entering it into film festivals. We had a lot of fun with that when we did The Tribe. In terms of film, that's a good question. We're taking a nice break. I just had another film come out a month ago called 50/50: Rethinking the Past, Present, and Future of Women + Power that explores the history of women in power.
Goldberg: On Sunday, I'm hosting 200 people for a robotics conference. [laughs]
Jewcy: Is there anything else you would like Jewcy readers to know?
Shlain: Our film website has all the info on it. You can't watch the movie on it, but it's a call for entries. To watch the movie, come to the museum! Soon, we'll have other plans to share.
Learn more about the film's premiere at NMAJH.
Image via Facebook.