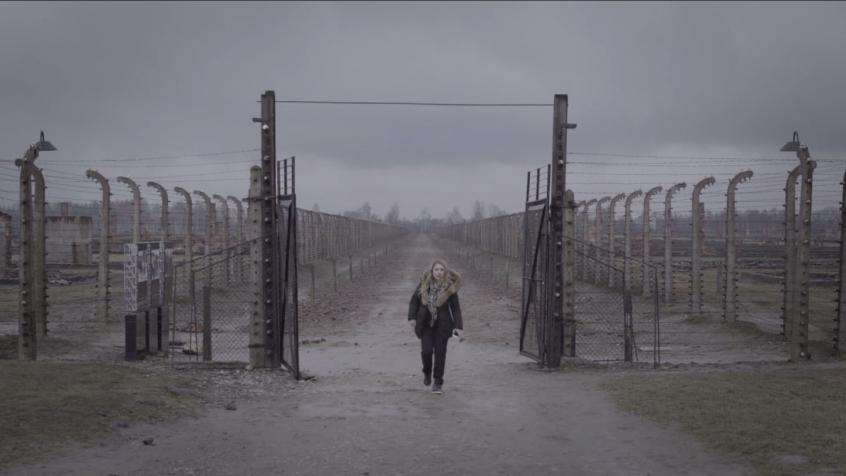 Serena Dykman is a granddaughter of survivors. She has directed, and appears in, Nana: A Transgenerational Documentary on Tolerance. This groundbreaking film tells the story of her grandmother, Auschwitz survivor Maryla Michalowski-Dyamant, and the journey of her mother, Alice, and herself to come to terms with their past. If you believe that you have seen every statement of resilience and every vision of horror eloquently related, you will find a renewed and different connection to the legacy of the Shoah after you see this film.
Jewcy: How did you conceive of this project, of presenting the experience of your grandmother, who had died when you were eleven years old, to a new generation?
Dykman:  It happened quickly.  I always knew that my grandmother was a survivor. I was completely aware, but I did not understand what that meant.  I am from Paris and Brussels.  I went to Brussels the day of the attack at the Jewish Museum; the next time I traveled to Europe was after the attacks on Charlie Hébdo and the kosher supermarket.  I had been traveling with the memoir my grandmother had written, but I had not opened the book.  When I came back to New York, I realized what she had stood for.  Saddened that she was not here to tell her story, I realized that her message of tolerance and hope needed to be heard by a new generation.
In my last semester at NYU I took a documentary film class.  Three weeks after the course I was filming on location at Auschwitz.  If I had thought carefully, I would not have had the courage to go through with it. I retraced my grandmother's memories, reading aloud while physically retracing her steps.  Back in NY, many people who had heard about the project sent me archival footage, over 100 hours, including interviews with my grandmother. Then the film started taking a different shape.  I discovered my grandmother more in the editing room than I had in her memoir.
Jewcy:  Some explorations of the lives of survivors, their children, and grandchildren, report the continuation of unspoken trauma, even dysfunction, in these families.  Your film is centered in the strong bond between mother and daughter.  How did your relationship with your mother inform your vision in this film?
Dykman: I have always been close to my mother.  It all came together; I began to realize, to learn, "this is why she reacts this way."   I finally understood how heavy the weight of the heritage has been for her entire life.  My grandmother was outspoken. As a child, when my mother asked her mother, "where are your parents?" the response she received was that they had been gassed by the Nazis.  The second generation had to suffer for what their parents suffered. They had the responsibility to pass on their parents' survival story.  It was hard because they were so close. As a member of the third generation, I was close, but not so close that the process would kill me.
Jewcy: Your grandmother's personality is strong, ironic, proud.  In footage of her interviews by those learning about the Shoah, she seems at times surprised by their naivité. In response to the question, "Why did Hitler choose to persecute the Jews?" she answers "I don't know. Hitler didn't confide in me."
Dykman:  My grandmother was changed by the war, but not completely.  She had an incredible sense of humor. People who see this ask if she was like that before the war.  Her memoir reveals this characteristic in her childhood and teenage years.  After the war she met and married my grandfather, a non-Jewish Pole. She was not, she believed a "regular person." She educated herself after the war. She studied the Bible and wanted to understand society and human intolerance.   She had been raised in a liberal setting and was not religious.  Speaking for myself, my Jewish identity is more cultural than religious.  People would sometimes ask my grandmother if she believed in God.  She would answer, "After what I just told you, do you think I believe in God?  
Jewcy: Your grandmother relates several instances of the Nazis' sadistic use of language and of the attempt of your grandmother to subvert this torture.  In one anecdote, she describes hauling rocks as part of her slave labor in the camp.  A Nazi guard repeatedly asks her what she is carrying; every time she answers, "a rock" he threatens her, finally telling her it is not a rock, but a stone. How does your film try to recover language from this lethal assault?
Dykman:  Reading aloud is what started the whole film.  My grandmother had a distinct way of phrasing things. French was not her first language; her syntax was unusual.  Her style was to never complain.  Rather, she would act out what she was saying, but not in a theatrical way.  She speaks as if the story takes place in the present and acts out dialogue.  People who refer to the Holocaust as something that happened seventy years ago hear her speak and learn of its relevance today.
Jewcy: How did recent terrorist attacks in Europe become a framework for your film?
Dykman:  My perspective changed while making the film.  I made the film after witnessing the attacks in Paris and Brussels.  The first screening was after the subsequent airport attacks in Brussels.  What had happened to the Jewish people was also happening to others, and my grandmother's call for tolerance needed to be timeless. Rather than add references to more specific acts of terror, I wanted to film to be timeless, and to exclude no one. I worked with an amazing editor who understood the framework of the film.
Jewcy:  As your mother states with conviction in one of your conversations about her struggle as a child of survivors, "Long live life. Long live Nana."
Nana: A Transgenerational Documentary on Tolerance premieres on November 6 (Maryla's Birthday), at the St. Louis International Film Festival.
Image from Nana.