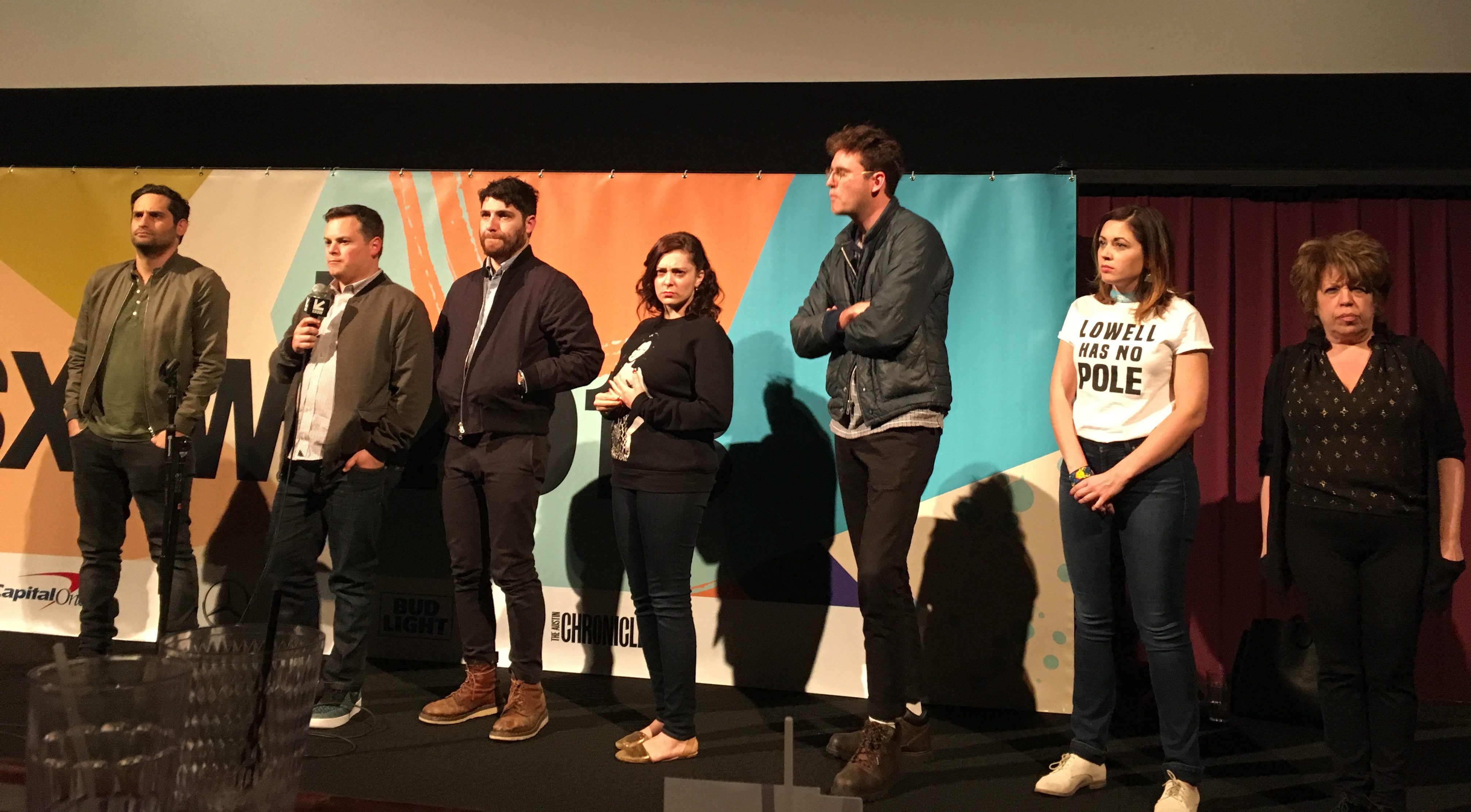 Though it's nowhere near Thanksgiving, now is as good a time as any for the release of an entertaining comedy about coming home for the holidays that may be especially enjoyable for Jewish audiences.
In Most Likely to Murder, which debuted at South by Southwest last month, Billy (Adam Pally) returns home to Long Island when his parents tell him they're moving. He tries to rekindle a romance with his high school girlfriend, Kara (Rachel Bloom), only to learn that she is dating Lowell (Vincent Kartheiser), the neighbor he used to torment. Not only that, but Billy suspects that Lowell may have killed his own mother, leading him to a preposterous effort to convince everyone that he isn't merely jealous but actually living across the street from a dangerous murderer. Jewcy had the chance to speak with screenwriters Dan Gregor, who also directed the film, and Doug Mand about their experience making the film.
Jewcy: This is an interesting hybrid of a film, a comedy wrapped around a murder mystery. How did you come up with the idea for this movie, and to what genre would you assign it?
Gregor: Frankly, our first thought was, how can we make a movie that we can film somewhere we know we can get? I assumed that my parents would let me shoot in their house. We knew we could shoot in the suburbs, which was the first building block. The time period of the night before Thanksgiving appealed to us for a long time – this little gem of emotion and story, where you feel all of your history coming back to you. We really wanted to find a way to tell a story within those two confines. Simultaneously, we've loved the mystery detective genre our whole lives, and wanted to find a way to marry those together. In terms of the genre, it's a noir where the mystery is real and the stakes are real, but at the center of it is a total moron.
Jewcy: How did your three leads, who all have great TV roots (Happy Endings, Crazy Ex-Girlfriend, and Mad Men, respectively) come to be involved with the film?
Mand: Adam Pally and I lived together in New York while we were going to college. Dan and I went to NYU and Adam was at the New School. When we graduated, we started doing comedy together and have been friends ever since. We wrote this movie for Adam. Rachel Bloom is also someone we came up with through the comedy scene at NYU, and Dan is married to her. She's obviously incredibly talented, and we figured that if she would want to do this movie–and she did–we were excited to have her. She and Adam are family to us. With Vincent, we were really fortunate. He was truly our first choice for this movie, and someone knew his manager, who sent him the script. He responded to it and was on board almost immediately, which is very rare. He was immediately a part of the family and just a pleasure.
Jewcy: There is a lot of Judaism to be found in this story. The Bar Mitzvah clock that plays an important role in the mystery, a "goys vs. Jews" football game, and prime murder suspect Lowell apparently having a great davening voice. Can you talk more about those references and your own Jewish backgrounds?
Gregor: It's pretty intertwined with my suburban experience. I'm from Long Island, and my hometown was literally 75% Jewish. All of the neighboring towns had enormous Jewish populations. It's not strange to know someone that became a rabbi. You still do have all of your Bar Mitzvah paraphernalia around your room. Just this morning, I was drinking out of my Bar Mitzvah mug–it's a Don Mattingly mug that I'm very in love with still. We probably had to cut a dozen more Jewish jokes because it was becoming too much. There was probably a line where we were realizing that no one who's not Jewish is going to understand what we're talking about. I'm still in shock that we left a joke about davening in. I feel like even among Jews that's not something that everyone knows.
Mand: Dan and I are both Jews. I grew up in suburban Philadelphia. We had very similar upbringings. If we were going to write a comedy about coming home for the holidays, there was no way that we were going to escape certain cultural references. That's who we are. When Didi Conn came in to audition for the role of Billy's mom, she was immediately the most Jewish mother I've ever seen. In real life, she brought her own salt and pepper shakers to the set, which is like the most Jewish mom thing ever.
Jewcy: I loved seeing Billy Eichner in a brief role as Lowell's rabbi who used his signature inflection to shout about his tzitzit and having to call the Chevra kadisha. It's a small part–is that what you always imagined?
Gregor: Billy was someone we knew previously, and we just knew that if we could get him for a day, since he's so busy, he could literally read the phonebook and it would be funny. It worked out perfectly. He was in town for a day. He actually went to the Forest Hills Jewish Center, where my mom is the Executive Director. We knew that if we wanted someone to play a big Jew, Billy Eichner could do it right. We found out on set that he was less aware of the deep-cut Jewish stuff than we thought. I had to work through the pronunciation of Chevra kadisha with him. We used his real Bar Mitzvah photo as the image on David Spiegel's Bar Mitzvah clock, which was fun.
Jewcy: I know that you founded the sketch comedy group Hammerkatz at NYU with Adam Pally. What's your involvement with it today?
Gregor: We're proud alumni. We're going back to do some screenings in New York and going to try to do one at NYU for students. That's a group where we were part of the founding generation, and we're really proud of its continued existence and what they're doing. There has been an amazing amount of alumni who have gone from there to impressive stuff. Other than being on an e-mail chain with a bunch of Hammerkatz people, there's not much for us to do anymore.
Jewcy: You've both worked on Bloom's show Crazy Ex-Girlfriend. Are you planning to be involved with the show more in the future?
Gregor: Yeah, we've been writing on that show for the last three seasons. It's been an amazing experience. I'm going to direct an episode in season four.
Jewcy: What are some of your favorite Jewish comedies?
Gregor: History of the World, Part 1. I immediately think of the inquisition musical as my favorite Jewish musical of all time.
Mand: It's Mel Brooks. I knew Spaceballs before I knew about Star Wars. That should tell you everything. Star Wars is just a less funny Spaceballs. He is really the ultimate for us.
Gregor: Larry David right now is holding the mantle.
Mand: Yeah, reluctantly. Seinfeld was the best show growing up, and it became Curb [Your Enthusiasm]. There's a lot of Judaism all over there.
Jewcy: What's next for you guys?
Mand: A pilot with Lorne Michaels' company. We're always writing stuff and developing ideas for us to create and produce ourselves. If you know people that are hiring, let them know. We're going to start writing a new movie to make, most likely in the same vein.
Jewcy: Do you have any advice for Jewish viewers going to see this movie?
Gregor: Don't drink too much water going in. You might have to pee and very exciting things happen!
Most Likely to Murder will be released on digital and on demand May 1st.
Photo: The cast and creative team of Most Likely to Murder in Austin. Credit Abe Fried-Tanzer