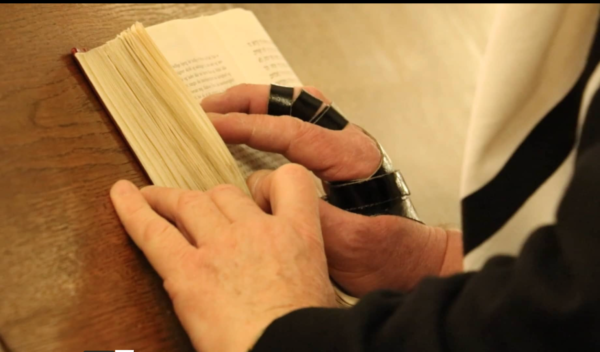 During her time abroad in Copenhagen last fall, University of North Carolina at Chapel Hill (UNC) senior Amanda Lalezarian immersed herself in the Danish Jewish community. Her time abroad became Against the Odds: Embracing Judaism in Denmark, a powerful documentary that explores both the history of and the current state of affairs for Jews in this Scandinavian country. 
At 20 minutes, Against the Odds provides a comprehensive picture of how Danes view religion, what occurred in Denmark during the Holocaust, and the varied experiences of Danish Jews in the 21st century. The film, which is Lalezarian's senior honors thesis, is designed for an American audience that is not familiar with the Jews of Denmark. Much like her audience, Lalezarian, who hails from Long Island and whose mother is Swedish and father is Persian Jewish, had limited knowledge about Danish Jews when she embarked on this project. 
Lalezarian screened the film for the first time in late April at UNC, and has made it available on Vimeo. You can watch it yourself, embedded below this interview!
What inspired you to make a documentary about the Jews of Denmark?
It was mid-August, school was starting in two weeks, and I still didn't have an idea for my thesis. I was home for less than 48 hours in between covering the Olympics in Brazil and going abroad to Copenhagen — which is nuts but that's what I do — and I was having dinner with my parents and my dad asked, "You have an idea yet?" And I said, "No." He said, "Do you know anything about the Jewish community in Copenhagen?" And I said, "No." I just did a quick Google search and found out they're a very small population of the country. I was like, "This sounds interesting; it could be an interesting project because I don't know anything about them."
Then two, three weeks later the program that I was on had a club fair where you can walk around the building and see what organizations have clubs for students. And I walked by the Chabad table and the first Jew that I met in Denmark was the Chabad Denmark Rabbi Yitzi Loewenthal. I told him that I had this idea and he said, "Oh yeah, that sounds interesting. We can chat later if you want to come to my office," and it just started from there.
When you began, did you have any idea where this documentary would end up going?
At the beginning, I knew that I had to cover past, present, and future. For me, someone who didn't know anything, I knew that an audience from America that didn't know anything about the issues, they would need that background. I knew that I had to meet a Holocaust survivor. A majority of the project was about the Copenhagen attacks in 2015. That became a part of the story I didn't expect going into it. 
How did you approach finding individuals to interview?
The first person I met was the Chabad Rabbi. He gave me the numbers for three Holocaust survivors, and the one who is in my documentary, Dan Edelsten, is the one I ended up connecting with. Through Dan Edelsten, I met his granddaughter. I met the kosher butcher just by looking him up. Everyone is connected and everyone knows everyone so people just kept introducing me to other people.
As you went about making the documentary, what did you learn about the Jews of Denmark?
The Jews came to Denmark in the 1640s and there was a small group of maybe a 1,000 of them. They came from Eastern Europe, and today there is 6-8,000. The number has increased, but not really that much and I think it's amazing that they haven't left. I think it's amazing that they've continued to carry out their religion and culture and not shy away because of hard times. I think there they really hang onto their religion; I think that's changing, but I think that's amazing that they've continued to do it. 
The end is really powerful. You just don't know what's going to happen in the future. 
I kind of wanted to leave it that way. It is open ended because there isn't an answer. There won't be an answer until you look back at it. There is a conclusion, but not really— because who am I to say what's going to happen?
From making this documentary, what sense did you get about the future of the Jews in country?
I asked everyone the same question: What is the future of Judaism in Denmark? And people would laugh and say, "I'm not a prophet." "I don't know." One guy said, "People have been staying for the past 400 years . . . and we're still here." I just think some people will move, but I don't think that many people will move. I think they will just become more cultural. 
But I really don't see the numbers getting stronger because there's not much opportunity. Not that you need a kosher market or a Jewish school to be Jewish … they have one daily active synagogue and the other one is a progressive. It's just hard. I would be interested in seeing what happens 20, 50 years from now.
Do you think this experience changed or added to your own perspective on Judaism? 
It just added to my knowledge I think, to my understanding of Judaism. I think living in the States and being a Jew, you just have such a different perception of what that means compared to people who are from Europe who are Jewish. I think it's opened my eyes to what Judaism is like in another country. 
What do you hope viewers take away from this experience? 
I just want them learn one thing they didn't know before. So if you watch it, not that I expect everyone to get the same understanding out of it, but for them to at least acknowledge the story and whatever they walk away from it learning, and it can be different from one person to the next. And that's kind of what I like to do with my projects, leave it open for interpretation. 
***
When asked the following question, "Did the interviewees feel it was very important to discuss the state of Jews in Denmark?," Lalezarian felt it was best to ask an interviewee directly. The answer to this question comes from interviewee Mette Bentow, a Jewish activist, whose daughter Hannah's bat mitzvah took place during the 2015 terrorist attack in Copenhagen. 
Why did you feel it was important to be part of Against the Odds: Embracing Judaism in Denmark? 
Mette: Firstly, I will always do my utmost to help out a fellow Jew, especially when a young Jewish student needs a helping hand. Secondly, having had the experience we did, I feel it is my obligation to share that story – for the sake of my kids and for the everlasting memory of Dan Uzan, Z"L. [Dan was Jewish, and killed in the 2015 terrorist attack.]
Jews in Europe, all of Europe, is experiencing a rise in anti-Semitism, verbal attacks, bias from the media in their reporting of the Israel/Palestinian conflict. In Denmark, we have had a long, peaceful Danish-Jewish history, without much anti-Semitism and persecution of Jews — even during the Holocaust we had the unique story of the rescue of 95% of the Danish Jewish population.
But these days, exemplified to the extreme by the terrorist attack, Danish Jews are not in the safe haven they used to be in. I think that it is very important to speak out, to insist on our rights and to be an active part, instead of bowing my head and wait for others to fix it for me — or even worse, take the abuse and degradation.
Against the Odds: Embracing Judaism in Denmark can be viewed on Vimeo, or below:
Image from Against the Odds.