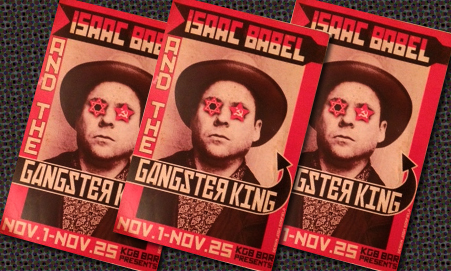 Last May, when I set out to find a venue for my exhibit of propaganda paintings marking the 25th anniversary of Chernobyl, I thought it would be cute if the East Village KGB Bar hosted it. Once I pitched the project to bar owner Denis Woychuk, however, I realized his passion for Soviet icons goes beyond semantics. His family—and the building itself—have roots in Jewish Ukraine and Soviet dissidence that precede the literary bar's existence.
The building, a speak-easy in the 1920s, was bought by the Ukrainian Labor Home—a social fraternal organization—in 1948, complete with a closet full of authentic Socialist propaganda. As building's owners aged, Woychuk began renting the downstairs space as a gallery and hoped to eventually take over the building.
"It became an international headquarters for the Ukrainian American community," Woychuk told me:
They ran a Ukrainian American paper out of that building for many years; my father worked for the printing press, where the comedy club is now. He used to take me, in diapers, sit me on a barstool, and would drink at the bar. I remember I had my first drink at [age] five.
He opened the Kraine Gallery downstairs in 1983, when the building was struggling. "They still had the bar at the time, and for $5, my artist friends could get a drink, a soup, a salad, meat, potatoes, and a vegetable," Woychuk explained. "Even back then, that was super cheap."
In 1986, he accompanied a group of the building's owners on a trip to the Soviet Union, hoping to get their blessing to take over the space. It worked, and in 1992 Woychuk applied for a corporation license as KGB Bar Inc, which initially got turned down. "The Department of State says you can't name your business KGB Bar," Woychuk said. "But I got it through as an acronym for 'Kraine Gallery Bar.'"
Woychuk's latest project, 20 years after the christening of KGB Bar, is a Soviet-themed musical currently on stage at the theater below the bar. Isaac Babel and the Gangster King, promoted as The Godfather meets Fiddler on the Roof, is set in 1936 Odessa and based on the stories and real-life exploits of Isaac Babel, the Soviet-era Russian Jewish master literati.
Isaac Babel and the Gangster King runs Thursday through Saturday at 8:00 pm until November 25 at the Kraine Theater.