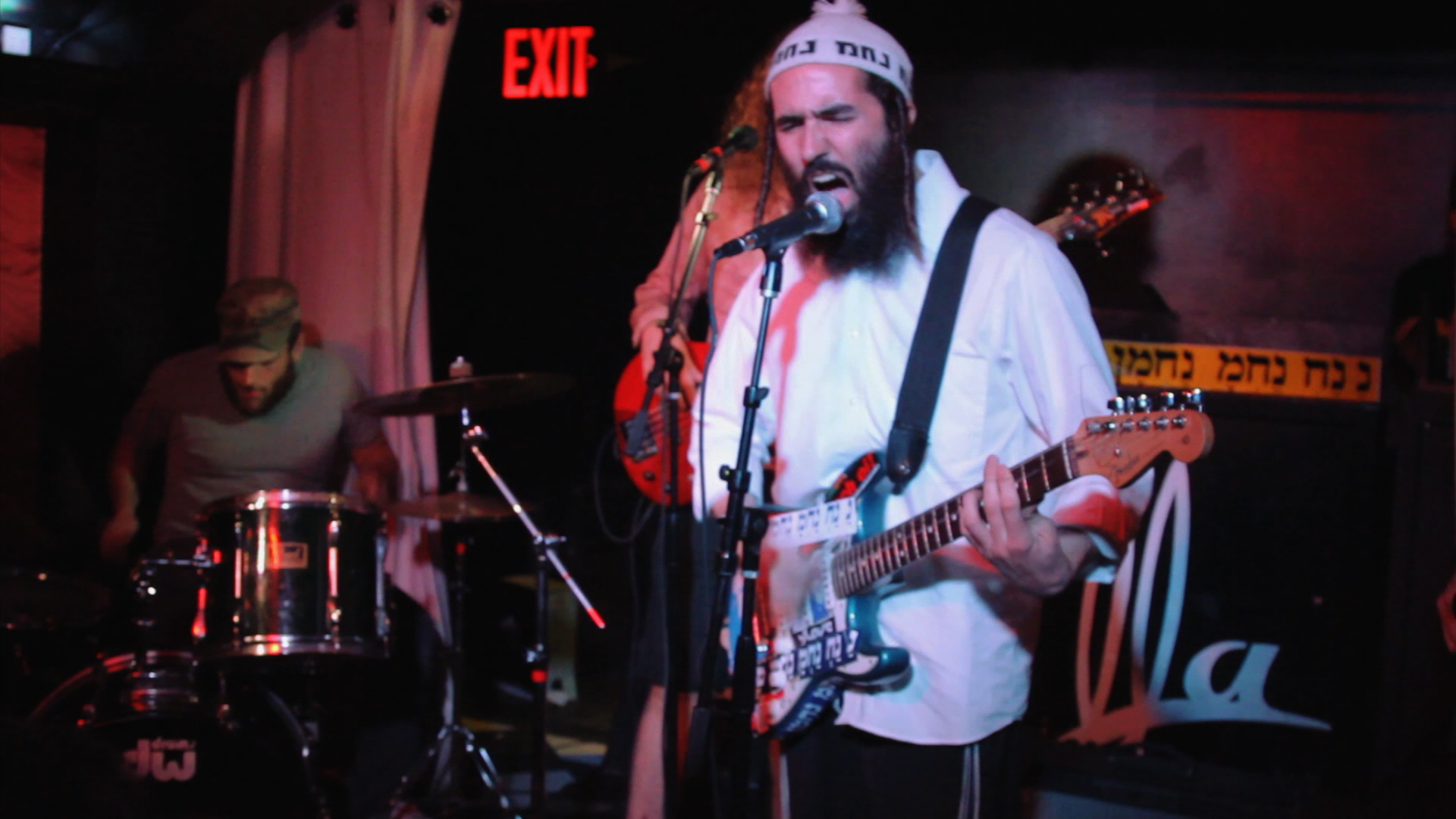 Traditionally for Shavuot, Jews celebrate that God gave us the Torah by staying up until sunrise learning Torah. Untraditionally, you can rev yourself up for an all-nighter by listening to "Torah hardcore."   
Unlike most hardcore punk, "Torah hardcore" fully embraces the Tanakh. There's only one band in the genre: Moshiach Oi! The New York group released their first two albums in 2009 and 2011, and their third, Rock Rabeinu, is tentatively due out in June. For Moshiach Oi!, the messages of Torah and Jewish observance are genuine, and the music is a platform.
"Punk rock music is a great way to express Torah concepts," said drummer Pesach Simcha Alpert.
Singer Yishai Romanoff added, "It's powerful. It's passionate. It's right to the point, right to the core, no beating around the bush. It's straightforward. What's better to use to get out a powerful message?"
Moshiach Oi! often takes that straightforward approach to the extreme, including with songs where two or three words are repeated throughout. While numerous Moshiach Oi! songs promote Torah values and teachings, three explicitly hit listeners over the head with an embrace of Torah.
In "I Wanna Learn Torah," the title is sung or screamed 24 times in a song that clocks in at 1 minute, 12 seconds. Romanoff declares his desire to learn Torah daily. He aspires to "learn Chumash with Rashi" until he knows it "fluently." He celebrates that his "Torah fire can never be tamed." He explains that his need to learn Torah is because of his "soul" and "head" and because the Torah contains "all of God's wisdom." Ultimately, he seeks to learn Torah "because I am a Jew"!
"I Love Torah" sees the band mixing in reggae and featuring a guest synth player, and at 3:45, it's the longest song on Moshiach Oi!'s debut album. The lyrics, however, still get right to the point, with the title repeated 35 times. In the verses with that refrain, Romanoff tells listeners that he learns Torah "every day" and that "it brings light" to his soul. There is one verse where Romanoff leaves out the refrain, but by the end he seems frustrated that he's veered off track: "That's enough talk/It's time to pray."
In "Torah of Moshe," the refrain "The Torah of Moshe [Moses] will never be forgotten" comes up 20 times. It's in the cadence of the popular protest chant "The people united will never be defeated," imbuing it with punk cred. Romanoff declares, "Torah of truth piercing up through the sky/From Moshe Rabbeinu to Shimon Bar Yochai." He sings that the Torah won't be forgotten from Jews' mouths, minds, hearts, or land.
If you want to stay up for Shavuot, ditch the caffeine and get ready with some Torah hardcore. "Our message … has this objective of waking and shaking people up. And so what better musical style to use than punk rock, which tends to wake and shake people up?" Romanoff explained. "Punk rock has a special power to really get people riled up."
To learn more about Moshiach Oi!, check out my book, Oy Oy Oy Gevalt! Jews and Punk. Yishai Romanoff is featured on the book's cover.
Photo of Drummer Pesach Simcha Alpert and front man Yishai Romanoff of Moshiach Oi! from the 2012 documentary Punk Jews.