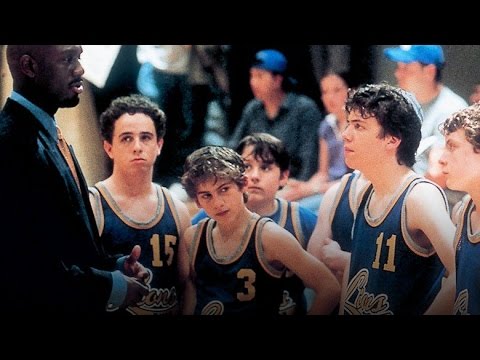 Let's be plain: there are not many good Chanukah movies. For the children, there is the Rugrats Chanukah special. For the adults… It's A Wonderful Life? (One can only imagine a restless Jewish station manager conspiring to schedule as the yearly Christmas viewing a movie that is 98% human misery and only 2% Christmas.) However, blessed is the Disney Channel, for from this unlikely place came one of our only modern Chanukah classics (the other, of course, being The Hebrew Hammer in all its exploitation glory), Full-Court Miracle.
Inspired partly by the true story of ex-Sixer Joe "Jellybean" Bryant, who coached the girls of Akiba Hebrew Academy so his son (Kobe—you might have heard of him) could play basketball at nearby Lower Merion High, and partly by the real-life Lamont Carr, 2003's Full-Court Miracle tells a fable of five Philly day school kids and their quest to win a local basketball tournament. There's T.J., whose temper can only be cooled by his passion for Rebecca Bloomberg; Joker, mouthy and sardonic; Ben, the fat one; Stick, a leggy nice Jewish boy who is clearly the MVP of the movie (he's the first to dream up that their new coach is Judah Maccabee, is endearingly bookish, and even scores the winning points with his hook shot); and Alex "Schlotz" Schlotzky, our pint-sized, basketball-obsessed hero.
When Schlotz is tired of losing to a team of the most obviously villainous opponents since the 80s, he stumbles upon a former college basketball star, Lamont Carr, who the boys believe to be a reincarnated Judah Maccabee (a classic, I know). A series of obstacles ensue and are overcome, and along the way we all learn the true meaning of Chanukah.
It's really a miracle that this movie exists at all. Nothing else stands like it in the canon of Disney Channel Original Movies, a staple of many childhoods, with a new movie featuring snowboarding or surfing or motorbiking teens each month. (Sadly for kids today, these are released with much less frequency.)
In Full Court Miracle, there are menorahs on every surface, so you know these characters are really Jewish. The sports-fanatic rabbi has a running joke asking "is there something on your mind beside a yarmulke?" There are explanations of chukim (Lamont responds to the idea with a saying of his grandmother's about how if we knew everything God knew, we would be God ourselves). There is a moment of tension when, at the Shabbos table, Lamont asks for a glass of milk with his chopped liver—even though, of course, he just ate chopped liver with his gefilte fish. There is a Dreidel, Dreidel rap remix. (I don't think it can be overstated how much of classic this movie is.)
On the other hand, it's unbelievable no one made this movie before. Chanukah really is the ultimate sports movie, if you consider sports movies at their hearts to be underdog stories. Who has ever been more underdog than the Maccabees? (Think of how many Jewish sports organizations are somehow Maccabee-derived.) Full-Court Miracle merely mashes up the genres to create the optimal version of the Chanukah story. Instead of the Syrian-Greeks, we have the Warriors—yes, the Warriors—led by the sneering Tyler, who is so evil he calls a timeout to end the final game, and his over-the-top coach, who is begging for a mustache to twirl. Instead of Judah, there is an ex-ballplayer with bad knees who lives in a van down by the river. (License plate: JM 165.) Instead of the hills of Judea, there is a facsimile Philadelphia. And the climax of the movie models both miracles of Chanukah when a bunch of Jewish kids succeed where they are not supposed to by outlasting their rivals and a backup generator overextending its fuel supply.
Of course, this idea makes up the DNA of most Jewish sports movies: when the world isn't a level playing field, let the playing field level the world.  Even Ernest Hemingway noted it, in his more-than-vaguely anti-Semitic portrait of Robert Cohn in The Sun Also Rises: "Robert Cohn was once middleweight boxing champion of Princeton… He cared nothing for boxing, in fact he disliked it, but he learned it painfully and thoroughly to counteract the feeling of inferiority and shyness he had felt on being treated as a Jew at Princeton."
Consider School Ties, where the protagonist is a Jewish quarterback in an anti-Semitic 50s boarding school, who bests his detractors in the end zone. Consider Chariots of Fire, where the protagonist is a Jewish runner in an anti-Semitic 20s university, who bests his detractors on the track. Consider Race, where in the midst of Jesse Owens' story, Marty Glickman and Sam Stoller cheesily flash their Star of David necklaces in the faces of Nazi guards. Each feels freakish and undermined, and so responds with feats of greatness, avenging themselves and their people in an arena where disadvantages can be surmounted.
To reflect inward a moment, Full-Court Miracle feels like a movie that was designed almost specifically for me: Jews, sports, loving shots of the Philly skyline, Allen Iverson jerseys. But I can sympathize with Schlotz and his Lions even more because my alma mater once cooked up an experiment as to whether or not a Jewish day school could front a competitive tackle football team. There were even pep rallies and cheerleaders. (My school sport was geography, and no, we did not have pep rallies or cheerleaders.) It went about as well as could be expected, but we kept the orthopedic surgeons sharp that season.
The lesson here is not in the failure, but in what makes Full-Court Miracle such a universal movie: it is ultimately about dreams. Dreams we have and dreams we shouldn't have, dreams we reach for even though we're told we can't accomplish them and dreams that change as we change. Maybe a yeshiva boy shouldn't dream of playing in the NBA, but neither was Judah Maccabee expected to liberate his people. Which is why this is the Chanukah classic we all deserve—because in the face of insurmountable odds, what is really to fail is to never try at all. (And because of the Dreidel, Dreidel rap remix. Of course.)
Image via YouTube