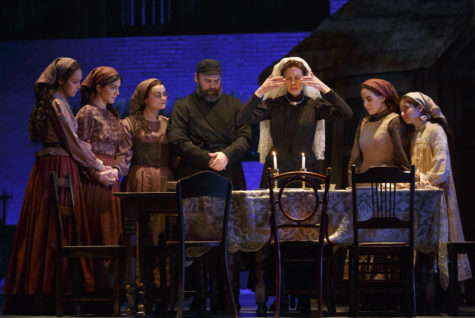 Bad news, kinderlakh: The current revival of Fiddler on the Roof has announced its closure, for the last day of 2016. At the time of its final performance, it will have been on Broadway slightly more than a year, earning three Tony nominations (no wins, but literally only three musicals got any this year).
This production did well critically and decently commercially; it is closing at a loss, but because Broadway is a scary, weird place, this isn't unusual. Fiddler is going to be fine; don't you fret.
So to look on the bright side, I decided to gather some numbers about Fiddler on the Roof to figure out just how OK it is:
—This was its sixth outing on Broadway— that's more productions than Tevye has daughters (in the musical; not in the original stories). This makes it tied for the fourth-most revived musical on Broadway of all time (and the three shows ahead of it on the list are older, and have had more time for productions).
—In fact, if you divide the years by number of Broadway productions from the list of the twenty most revived shows, Fiddler has the lowest number; it averages a new production every 8 years and 8 months. (This doesn't factor shows with long-running productions that haven't had a chance for revivals; it's why Cats, say, only has one.)
—Between all six productions, Fiddler has garnered 21 Tony Award nominations, winning a total of 9 of those. This isn't counting the honorary award it took home in 1972 for becoming then the longest-running musical in Broadway history (it's currently at #16 for that first run).
—The mean duration of these six productions is 726.5 days, and exactly half of them have run more than a year.
—For the big question: Since its first Broadway performance in 1964, what percentage of the time is it playing on Broadway? Time for some math:
When this production closes December 31st, how many days will it have been since its first performance (previews count), September 17, 1964?  19,099.
How long did the first production play? 2,846 days (shows tend to average more than one a day, and here it passed 3,200 performances).
The second production lasted 146 days.
The third lasted 46 days.
The fourth: 226 days (and there was probably a performance the day I was born! How nice!).
The fifth: 717 days.
This production (assuming it closes on the date promised, but these things are subject to change):  378 days.
This means that since 19,099 days ago, Fiddler on the Roof has been open on Broadway for 4,359 days.
Well, we do some quick division, and discover, that if you took a time machine to any day after September 16th, 1964, the odds that you would land on a date during a run of Fiddler on Broadway is 22.82%. That's right, higher than the percentage of Tevye's daughters that move to Siberia.
I leave you with that figure as a sign of hope that within the next decade we'll have Fiddler back, and that it will stick around for a bit. Also, be cheered that you still have time to see this production; it's a shame it's running about half as long as the one before it when it's easily twice as good.
*Insert joke that Fiddler playing Broadway is a "Tradition!" here.*
Image credit: Alexandra Silber, Samantha Massell, Melanie Moore, Danny Burstein, Jessica Hecht, Jenny Rose Baker, and Hayley Feinstein in Fiddler on the Roof. Photo by Joan Marcus.