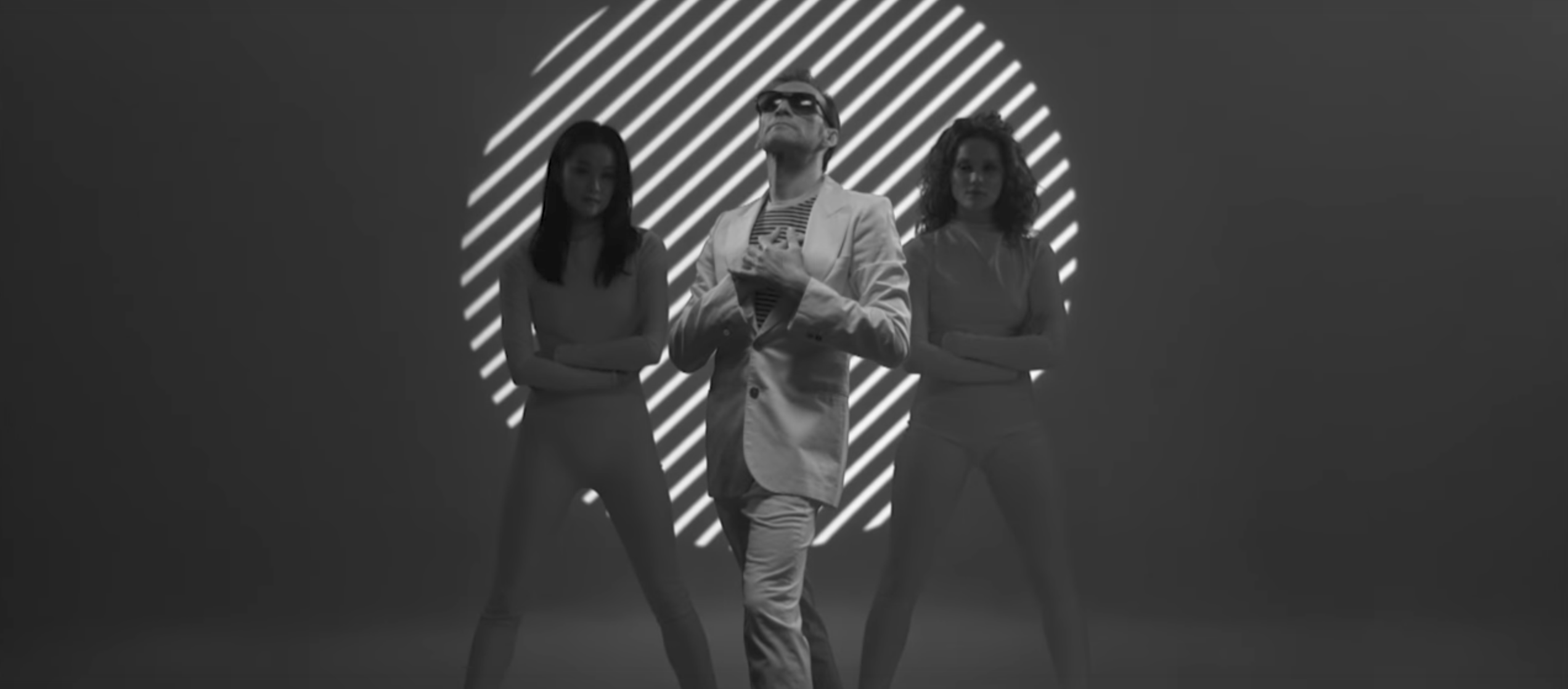 By all counts, the music video for "Als Ding hot a Soff, nur baym Wursht senen zway," Joe Fleisch's Yiddish cover of the '80s German New Wave hit "Alles hat ein Ende, nur die Wurst hat zwei" ("Everything Has an End, Only the Sausage Has Two") is bizarre. Shot in black and white in an evocative nod to the aesthetics of James Bond, the video―a collaboration with producer Ori Toledano and director Guy J. Bolandi―alternates between shots of Fleisch singing eerily and shots of naked, androgynous women (in a secluded forest!) who have the song's lyrics projected or painted on their bodies.
For the casual viewer who stumbles upon Fleisch's erotic odyssey, some context would be helpful. Joe Fleisch is actually the pseudonym of 54-year-old German author and entrepreneur Jossi Reich, whose other musical endeavor, the Tel Aviv-based band the Jewish Monkeys, is likewise unorthodox. While the band's name might call to mind the cheerful pop vibe of the Monkees, Reich's group performs a "distinctive mishmash of rock, klezmer, funk, and Balkan music, sung in English, Spanish, Esperanto and Yiddish," in the words of Tablet contributor Dana Kessler. From a raunchy ode to Romania to a multicultural mashup ("The Banana Boat Song" meets "Hava Nagila," with some politics thrown in for good measure), nothing, it seems, is musically off limits.
"It's a personality split. It's a complete other thing," Reich told Jewcy, delineating his musical personae. "Jewish Monkeys is a punk rock band and very satirical and very funny and is kind of an orchestra with eight people."
For Bolandi, who has directed projects for major TV networks like Nickelodeon and Comedy Central, "Als Ding hot a Soff" was more personal than his commercial work. "The entire concept of the video was about translation,"  said Bolandi, 35, referring not only to linguistic translation, but translating high-tech concepts―computerized designs typify the New Wave ethos―into lo-fi iterations. "In a way, this is a reference to technology, actually painting on the bodies."
Reich's interest in the song stems from his obsession with German New Wave music growing up, such as the theatrical stylings of Nina Hagen and the political incorrectness of Deutsch Amerikanische Freundschaft (German-American Friendship). "The music was absolutely German, very monotonous," he said.
In "Als Ding hot a Soff," Toledano, whom Bolandi introduced to Reich, provides the sonic heart of the project: klezmer clarient and computerized music samples. Coming from a musical household (he's the son of Israeli singer and Eurovision contestant Avi Toledano), his prowess is no surprise. Plus, as the founder of Snowstar, a production company, it's his job to tell stories by marrying visual media and music.
"I do Americana, Blues. I don't have one genre," said Toledano, 32. "I could work on a wide range of different genres and be something else every day and work with as many people as possible on different productions."
Even if everything does have an end (or two, for sausages), let's hope this creative partnership's is far in the distance.
Experience the delightful weirdness that is the music video below:
Image via YouTube.