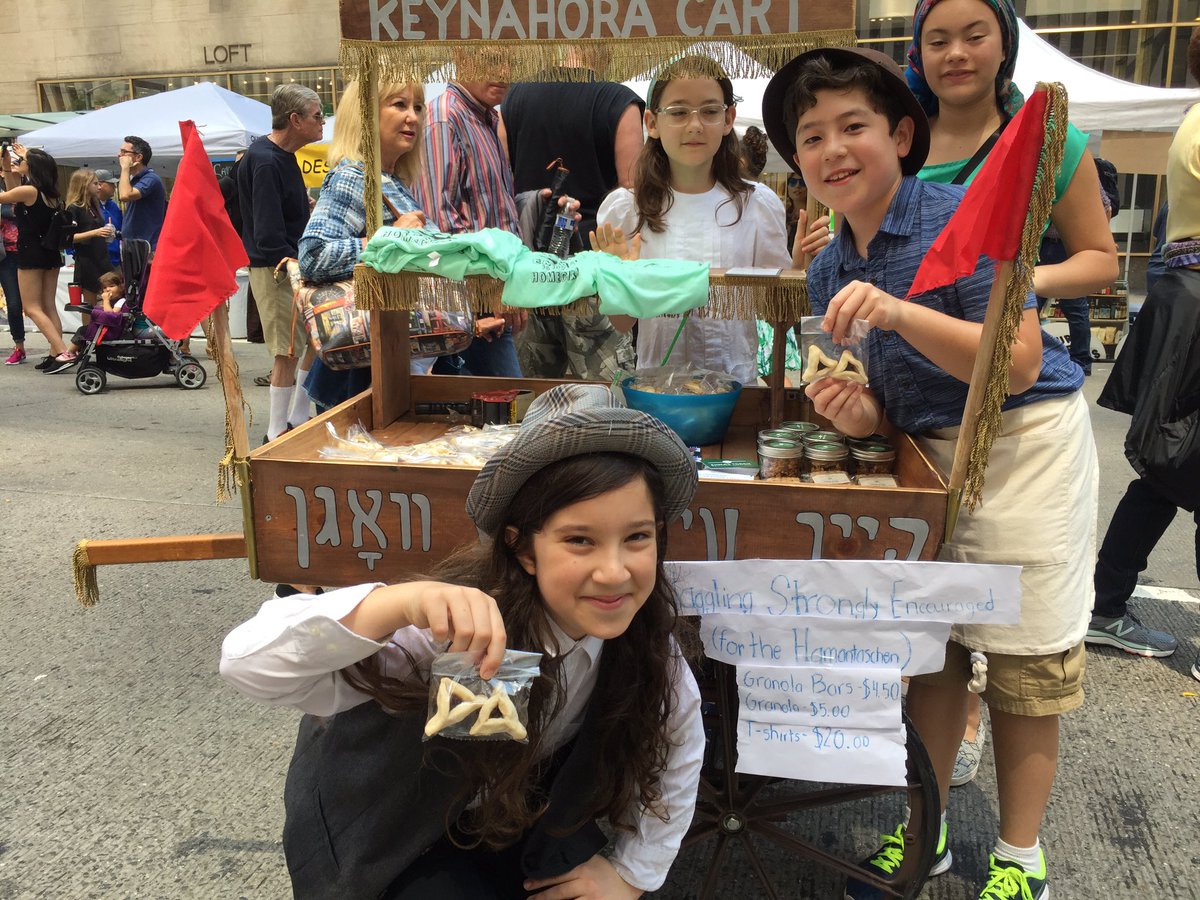 The Workman's Circle recently hosted its fourth Taste of Jewish Culture Annual Street Festival, with the theme "Diversity is Delicious." And wow, was it on theme. Classic Jewish foods and multicultural vendors sat side-by-side, serving up babkas next to kabobs. The non-Jewish vendors were asked to revise some of their dishes with a Jewish twist. In addition to the rugelach, macaroons and bialys found at Breads Bakery, Danny Macaroons, and Kossar's Bialys, Sweet Chili NYC served latkes with a Thai chili applesauce, Destination Dumplings created pastrami and sauerkraut dumplings, and La Newyorkina had babka ice cream sandwiches.
The Workmen's Circle was founded in 1900 as a Jewish benefit society to help immigrants integrate into the United States.  Over the last 117 years, the nonprofit has continued its mission of preserving Jewish culture, while also turning its focus to social and economic justice. Their efforts are especially relevant today when the plight of refugees everywhere mirror those of 20th century Jewish refugees. Ann Toback, the Executive Director of The Workmen's Circle, explained this connection, saying, "we remain so unhappy to see the mistakes of the 1900s—closing our borders, the language of blame and distrust—being replicated today, so we're fighting for the issues of immigrant rights."
One way that the festival supported immigrants was through partnering with Emma's Torch, a nonprofit that provides refugees with training in the foodservice industry. The organization was raising money by selling granola and granola bars made by refugees. After four hours, they had already raised over $200—in part thanks to students from The Workman's Circle Midtown School 5th and 6th grade classes, who had gone around the festival with a pushcart to sell the food, dressed as 19th century immigrants. Adorbs.
In addition to supporting a good cause, the event was a celebration of Jewish and immigrant culture. Visitors cooled off from the heat with chocolate egg creams, listened to performances by Frank London's Klezmer Brass All Stars and the Klezmer-rock band Golem, and honed their Yiddish skills thanks to the Yiddish Forward, who were giving cooking lessons.
Toback believes food has a unique ability to bring people together. "Food is a wonderful gateway to culture," she said. "When you ask people where they connect with their Jewish identity, so many people talk about the food—the matzah ball soup, or the matzah brie, or the gefilte fish. All of these things really resonate with people. When you speak to people who come from other cultures, the food really resonates. It's a wonderful way to connect and share with our diverse community."
Image via Twitter