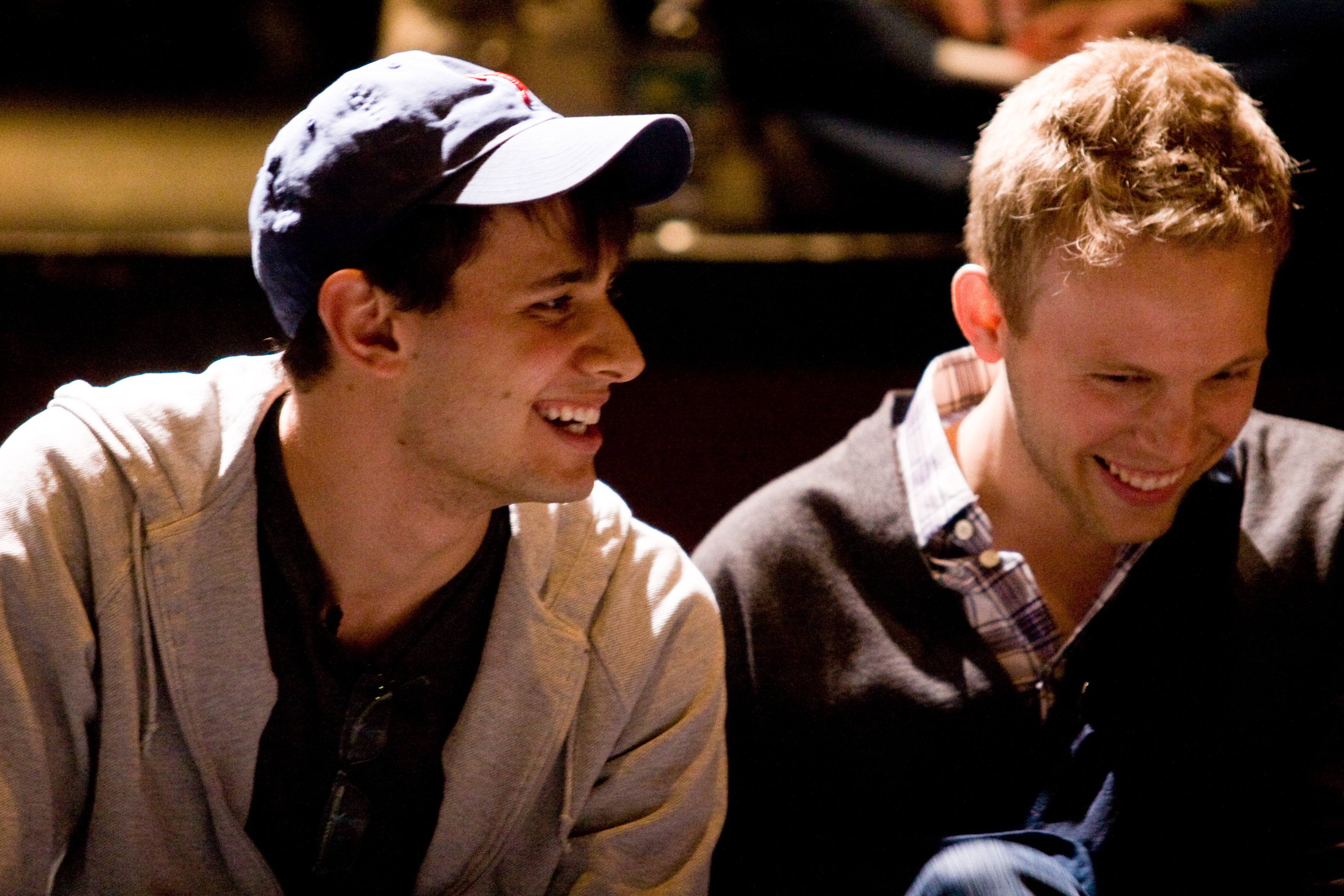 Jews might not have invented neurosis, but we certainly perfected it. Dear Evan Hansen, the off-Broadway hit scheduled for a Broadway transfer, is the latest addition to what I like to call the Great Jewish-American Songbook of Sadness. In musical theater tradition, Dear Evan Hansen is about loneliness, isolation, desire, and the crushing weight of being alive. Also in musical theater tradition, it is steeped in subtle but unmistakable Jewish influences.
It would be easier to count how many important Broadway writers and composers aren't Jewish. The balance is upheld by Dear Evan Hansen's creative team, consisting of one Christian—Justin Paul (music and lyrics)—and two Jews: Benj Pasek (music and lyrics) and Steven Levenson (book). None of their previous works scream "Jewish," although Pasek joined the ranks of Jews who wrote Christmas songs when he adapted A Christmas Story into a musical. Aside from a couple of quick references to bar mitzvah parties and getting to second base with an Israeli soldier, the characters in Dear Evan Hansen don't have to be Jewish.  It's not Fiddler.
But Ben Platt, the driving force on stage, is Jewish. Ben Platt has a history of playing lovable, lonely nerds who have a hard time fitting in. Most know him as Benji from both Pitch Perfect movies. At age 11, he starred in the national tour of Caroline, or Change as Noah Gellman, a Jewish boy in the 1960's who has a close and complicated relationship with his black housekeeper. More recently, he played the (decidedly not Jewish) Elder Cunningham in Book of Mormon.
Platt is captivating when he becomes Evan Hansen. His tics, twitches, and nervous rambling that are all too familiar for the socially anxious. It is impossible to praise Platt enough, although critics have tried, for a performance that is so painfully and heart-wrenchingly raw that you can't help but wonder how he can do that (once the show is over and you remember that he was acting).
In an interview with Metro Weekly, Platt credits his Jewish background as inspiration, explaining, "I had to base his social awkwardness more on people I've encountered in my life…I come from a big Jewish family and we all have our neuroses and our anxieties."  And where does that voice come from? He adds, "We're a very Jewish family, so we would sing a lot in synagogue, and at any bar mitzvah or wedding we always do a song together. "
Though anxiety is not unique to any culture or religion, Evan's behavior is distinctly Jewish, particularly his use of humor as a coping mechanism. He goes off on rambling, rapid monologues that he injects with sly self-deprecation. Evan suffers, but he uses humor to cope and, like many Jews, he knows the best target is himself. Early on, he explains that he broke his arm trying "to climb this 40-foot tall oak tree but—it's a funny story—there was a solid ten minutes after I fell where I was laying around, waiting for someone to come get me. I kept saying, any second now."
"And nobody came?"
"No," he finishes, "that's what's funny."
There, he turns sadness into a laugh line: credit to Levenson for the joke and Platt for the delivery.
The moments where tragedy embraces humor, where Evan's suffering gets a laugh—and he welcomes it, laughs along—are familiar in a culture known jointly for humor, suffering, and quirk. Jared, Evan's family friend, also provides comic relief. His comedy takes a harder, meaner edge that is more like Lenny Bruce than Woody Allen, but his flippant wisecracks and occasional lewdness are greatly appreciated—and at times merciful—in a show that can be emotionally overwhelming. I don't know if actor Will Roland is Jewish, but it wouldn't surprise me if he were.
For all its tragedy, Dear Evan Hansen is not just filled with humor, it is also filled with hope.  Like the characters, the story is as universal as it is Jewish: struggling through rough times, coming out of them, growing. Take the Jewish "Easter eggs" away and you're still left with Ben Platt's tour de force, wonderful songs and characters, a resonant story, and a lot of used tissues.
Arielle Davinger likes TV, theater, and dogs. She is currently trying.
Image credit: Wikimedia