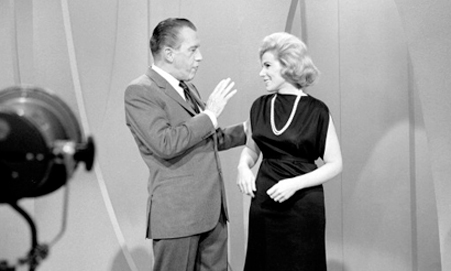 Yael Kohen's first book, We Killed: The Rise of Women in American Comedy, is the sort of oral history that encapsulates the form's pitfalls and its peculiar benefits. It contains the immediacy of lived experience vividly recollected, and it has the authenticity of testimony; it's also a loose, rough-hewn work, too long in parts and stunted in others. Reading it, one learns much, for example, about what a revelation Phyllis Diller and Elaine May were in the buttoned-up 1950s, when stand-up comedy was still a relatively new art form and women comedians were practically unknown. But Kohen also lets her subjects drone on at times, spilling useless detail or failing to pinpoint what made a particular comedian great. Still, it's the kind of history that breaks open an area of inquiry, so that future scholars and journalists can start digging.
To fill in some of these gaps, and to learn more about the book's author, I met up with Kohen at her book release party at powerHouse Arena in Brooklyn. Kohen is in her early 30s and is a contributing editor for Marie Claire. At powerHouse, she wore a satiny blue blouse and cheetah-print heels, and though she confessed to being nervous, she carried herself with a kind of rehearsed confidence, like a young, well-trained lawyer about to try her first big case.
Recently Kohen wrote a profile of Kim Ng, a Major League Baseball executive who has long been seen as likely to become the first female general manager of an MLB team. In 2009, she wrote a widely discussed article, titled "Stiletto Stoners," about working women who smoke pot.
"I think in general I'm interested in exploring ways in which conventional wisdom is wrong," Kohen told me. We Killed was born, in part, out of a desire to overturn a hidebound belief. Christopher Hitchens' notorious polemic, "Why Women Aren't Funny," which appeared in Vanity Fair in January 2007, counted Kohen among its many detractors. The article led Kohen to investigate the world of comedy—including for a 2009 Marie Claire story that presaged the book—and why many men are intimidated by female comedians, if not outright dismissive of them.
"Network television has always been a conservative medium," Kohen claims, and her history backs that up, showing how TV has lagged behind other popular art forms, like music and film. The Mary Tyler Moore Show, which premiered in 1970, was the first TV program to have a protagonist who was divorced. The show's co-creator, Allan Burns, recounted to Kohen a meeting with CBS personnel, in which one of the network's researchers said, "We have found that there are four things that American television audiences won't accept: men with mustaches, people who live in New York, Jews… and divorce." Later, CBS tested the first episode and told the show's staff that Rhoda, played by Valerie Harper, was "too Jewish and too abrasive."
In addition to devoting sections to icons like Elaine May, Phyllis Diller, Mary Tyler Moore, and Carol Burnett, Kohen focuses on several other hinge figures. Lily Tomlin emerges as someone who, along with Richard Pryor, brought the counterculture into comedy. (Bette Midler said that Tomlin "gave women brand-new ways to be funny.") Janeane Garofolo was not only the prototypical Gen-X slacker comedian; she also, apparently, provided opportunities for numerous people—men and women alike—and practically singlehandedly started the alt-comedy movement. Richard Belzer, now best known for his role on Law & Order: SVU (and for occasionally giving Nazi salutes), helped many young female comedians get work, including Roseanne Arnold and Susie Essman, while Del Close influenced practically every comedian who passed through Upright Citizens Brigade.
There are some marvelous anecdotes, such as the party where Gilda Radner punched Woody Allen in the stomach, as well as some choice lines, revealing in their bluntness. Take Treva Silverman, on comedy writers rooms in the 1970s: "everybody was always stoned."
Few major industry figures seem to have been free of sexist behavior. Johnny Carson found many female comedians to be "a little aggressive"—he told Rolling Stone as much in a 1979 interview—and though he made Joan Rivers his primary substitute host, he never considered anointing her his successor. David Letterman had a habit of saying that some women were "funny like a guy." The picture Kohen presents of Lorne Michaels is also complicated. He's sometimes described as supporting women writers, while at other times he tolerated sexist behavior behind the scenes at SNL. Mitzi Shore, the legendary owner of The Comedy Store, was responsible for launching many careers, but some women found her cold and aloof, and they felt ghettoized when she set aside a small, dark room at the club for female performers.
Annie Beats, an early SNL writer, said that "John Belushi used to regularly ask for [the show's female writers] to be fired" and refused to be in their sketches. (He also had a problem with Jews.) According to Marilyn Suzanne Miller, another original SNL writer, even noted that Al Franken—later liberal Democratic Senator Al Franken—would say that women weren't funny.
There are, however, some undeveloped threads. For example, a number of interviewees talk about the preponderance of gay men among their fans, and there is some mention of gay men as a big part of early comedy club crowds ("The gay guys, they were chic," Phyllis Diller said). But we're never treated to any further analysis about why or how these two groups, women and gay men, made such natural cultural allies.
And there's untapped drama as well. In a footnote that cries out for expansion, Kohen recounts the story of Joan Rivers, who after being passed over for inheriting The Tonight Show, got her own program, The Late Show Starring Joan Rivers. Fox canceled the show after Rivers refused to fire her husband, Edgar Rosenberg, who was executive producer. Rosenberg committed suicide months later, and "no woman has ever hosted a network late-night show since." As for Rivers, she "didn't appear on a late-night show for the next twenty years." Yet there's nothing on the subject from Rivers, who is interviewed in the book and who discussed the episode some in the documentary Joan Rivers: A Piece of Work. (The old talent agent Irvin Arthurs, on Rivers: "I think she would have killed somebody to make it.")
Appearance has been one of the most difficult issues facing women in comedy, and the standards and expectations have shifted dramatically over the years. In the 1950s, Phyllis Diller hid her looks behind baggy clothes and outrageous wigs. The young Joan Rivers, attractive by most standards, chose to poke fun at herself, playing the character of the single girl who can never get a man. A generation later, Elayne Boosler was seen as threatening because her act included blue jokes about prostitution and sex. Now, many female comics attest that there's an expectation to be attractive, to dress sexily, while others, pace Diller, wear hoodies and no makeup on stage, in hopes of being taken more seriously.
Many comedians in the book argue that male comedians are rewarded for their shlubbiness—think about Louis C.K. joking about his decrepit body. Women often aren't allowed that chance. "I do think women, they're judged a little bit differently for the way they approach their humor and their femininity," Kohen told me. "I think the difference is that that doesn't stop a guy from getting a sitcom, and it could stop a woman."
On this front, she admires Mindy Kaling, and her new show, The Mindy Project.
"She's not thin. Fine," Kohen said. "But there's something very refreshing about the way she's so confident."
At powerHouse Arena, a panel of female comedians, moderated by Vulture's Jesse David Fox, was both critical of the treatment many comediennes have received and in agreement that the situation has improved immensely. Emily Heller, a comedian and writer, said, "Being a woman has helped me greatly… People are really excited if you're a woman and you're good." She added, "the demand now for female comics is high."
But the industry is still shaking off the sexism that was nothing if not institutionalized and that discouraged women from entering the profession at all. Lizz Winstead, another panelist, recalled that when she created The Daily Show in 1996, she received resumes from 150 writers; two were women. (She noted that "Wake Up World," her 2007-08 Off-Broadway show, had seven women among its 10 writers.)
And too often, sexism has been dressed up as an act of bawdy daring, an ironic method of subversion. In 1987, Winstead was on Women of the Night, a comedy showcase on HBO. The comics were made to perform in front of a backdrop decorated to look like an alley. "We were dressed up like hookers and got out of a limo," Winstead said. The producers hoped to get footage of the comediennes being catty backstage, but it didn't work: "We didn't fight, and they were bummed."
Kohen noted that sites like College Humor and Funny or Die, which along with YouTube serve as a kind of digital comedy farm system, a role once principally occupied by clubs in New York and Los Angeles, employ mostly male writers. Even so, Kohen indicated that the current sense among many women is one of possibility, as well as gratitude towards their comedienne forbears. Now, that freedom often takes the form of insouciance.
Or as the writer Julieanne Smolinski announced to the crowd at powerHouse: "If you don't enjoy what we're doing, then you can go fuck yourself."
Recent Kvetches: Shani Boianjiu and the Problems of Youth
Stop Calling Porn Star James Deen a 'Nice Jewish Boy'