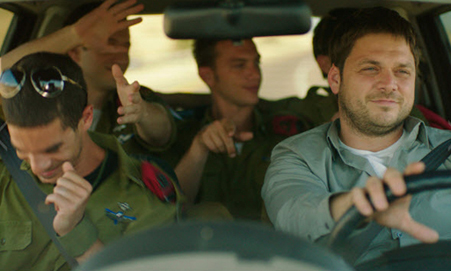 Last we saw Yossi, he was in mourning. It was the end of Yossi & Jagger, Eytan Fox's 2002 film about two young IDF soldiers in love—an affair that ended when Lior, called Jagger by Yossi, died in an infantry operation gone wrong. Their love was practically an open secret among their fellow soldiers but less so with Lior's parents, who, in one of the film's most bitterly sweet touches, are fooled by a female soldier's claim that she and Lior were in love. The soldier, Yaeli, admits that she never got a chance to tell Lior her feelings, but she thinks that their affection was mutual all the same. The knowledge is some comfort to Lior's mother, who admits that she never even knew her son's favorite song. Yossi (Ohad Knoller), seething with repression and heartbreak, looks up and offers the answer: "Bo" by Rita. The film ends with his melancholic smile.
A decade later, the grieving young man has returned in Yossi, Fox's minor-key sequel now premiering in the United States. By nearly all measures, we are a long ways away from the first film. Yossi & Jagger took place almost entirely on a snow-covered mountain in Israeli-occupied southern Lebanon. It appears to have been shot with a handheld, and the effect is less documentary than home movie—prone to jitters and unexpected close-ups, the colors washed out by sunlight bouncing off the snowscape. None of this is to the film's detriment—although some viewers might find the aesthetic dated, even anachronistic for its time—as it creates a familial, informal atmosphere around the soldiers' remote outpost. (The location, forbidding and snowbound, is not dissimilar from that of Beaufort, a glossier and more politically minded film that also starrs Knoller.)
Yossi, on the other hand, finds itself a world apart. Whereas our title character was once a confident, strong-willed, even dour commanding officer in the IDF, capable both in his duties and in his romantic life, Yossi has deteriorated in the years since. Now 33, he's successful—a cardiologist at a Tel Aviv hospital—but he's depressed, lonely, and without friends, save the garrulous Moti (Lior Ashkenazi), who is ecstatic about his impending divorce. Even more markedly, Yossi has added about 30 pounds, much of it to his belly and face, the latter now colonized by an ivy-like growth of scrub that, along with the premature crow's feet and purple bags around his eyes, signals a man at his nadir.
Fox's style has changed, too. Gone is the handheld camera, replaced by a smooth, shadowed approach that, particularly in the hospital's antiseptic halls, highlights Yossi's veritable lifelessness. When Yossi goes to the chic apartment of a man he's met online—an Adonis living in the kind of brushed steel-and-glass enclosure that seems less like a living space than a habitable status symbol—he becomes nigh catatonic. Were you to encounter him on a beach, you'd have to poke him with a stick to find out if he were in fact animate. Or, as Moti tells him, "You look like an operating table."
All this changes when Lior's mother is admitted to the hospital and gets treated by Yossi. A reckoning with her and her husband follows. Yossi leaves town on an impromptu vacation (he's never taken one) and, at a Negev rest stop, picks up some young soldiers on leave. He drives them the rest of the way to Eilat and falls in with them—or rather, falls for Tom (Oz Zehavi), a tanned, blue-eyed sylph. It seems improbable that Tom would be attracted to Yossi in return, but such unlikely unions, and the tangled emotional pathways that lead to them, are the basis of films like this one.
It's easy to say that Yossi is about grief, depression, and repressed sexuality (there's a pointed contrast with the far more liberated Tom). But in retrospect, I'm struck by how little the title character actually talks about these things, when he speaks at all. So much is communicated with a squelched remark or by the looks he gives Tom at a distance: pathetic and longing, but with some hope, secreted within like contraband. Such is the skill of Ohad Knoller, who adroitly inhabits both incarnations of Yossi. In fact, between this diptych, there are many Yossis: a clandestine but joyous lover, a brusque but respected soldier, an urban professional utterly adrift, and a man feebly searching for a way out of his own mind.
Both films show signs of the maudlin and the mannered, but they redeem themselves on the strength of Knoller's acting. With Yossi, Eytan Fox has produced an unexpectedly moving sequel, one that doubles as a welcome entry to his filmography on gay life in Israel.