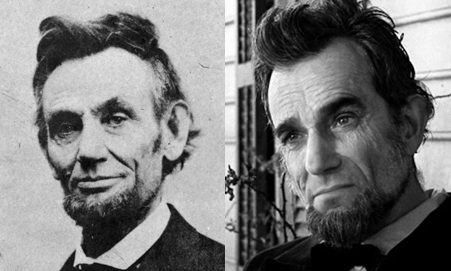 In the opening scene of Quentin Tarantino's Django Unchained, text flashes onto the screen: "1858. Two years before the Civil War." Tarantino has not only given us the year, but also added its relation to an monumentally important event in American history. He assumed, perhaps correctly, that this chronological hand-holding was necessary to adequately situate the film for viewers. Of course, it's appropriate that it's Tarantino, whose fidelity to history is nonexistent, who offers this curiously didactic moment.
This week—after celebrating a holiday that often displays only a dim relationship to its historical inspiration—many American families will go to the movies. And many of them will, in turn, see a movie that dramatizes a particular moment in American history—Lincoln, Django Unchained, or Zero Dark Thirty. Ever since Lincoln's debut in early October, much ink has been spilled about the film's purported accuracy and whether it appropriately dramatizes the effort to end slavery. Similar debates have followed the release of Django and Zero Dark Thirty, each of which, to varying degrees, relies on the audience's built-in historical knowledge to tell a particular kind of story.
A great deal seems to be at stake in these arguments, not least because, for many Americans, big-budget cinema is one of the primary ways to absorb history. How many holiday movie-goers will have read Mark Owen's No Easy Day—an account of the bin Laden raid from one of the members of the SEAL team involved—or Mark Bowden's The Finish? Or Doris Kearns Godwin's Team of Rivals, which Steven Spielberg drew on for his Lincoln biopic? All of these books are bestsellers and claim some expertise in their field (though you can find worthy critics of each), but none will ever have the reach, the low barrier to entry, or the hold on the public imagination that these two-hour, forty-foot high entertainments do. Despite whatever challenges mainstream Hollywood filmmaking may face, it still remains the greatest force for distributing this kind of content, and indeed these versions of our national history, to the public.
The critics of these films are more often right than they are wrong (Eric Foner's letter to the New York Times is a particular treat), but they also proceed from a flawed premise. It seems misguided, if not naïve, that we should continue, year after year, to expect fine-grained accuracy on the big screen, that Hollywood will subordinate dramatic possibility (or the opinions of focus groups) to picayune details of the historical record. These are spectacles, mass culture on the largest scale, and we are long past the point where even the manipulative possibilities of documentaries—and reality television, for that matter—are widely understood. We should know better and adjust our outrage-meters accordingly.
Instead, what is most revealing about these films is our practically carnal appetite to see history writ large and to arbitrate the film's treatment of this history. (Every movie-going group has at least one person whose first post-film response is to point out some inaccuracy.) Filmmakers play off of this desire as well. They buy into the discourse of authenticity and accuracy. They make heavy use of academics and expert sources, they pay homage to their source materials. In interviews, they speak of the historical personages in the present tense, as if they know them deeply. They talk about the hardships and sacrifices of their subjects.
In the case of Zero Dark Thirty director Kathryn Bigelow and screenwriter Mark Boal, they trumpet access to members of the intelligence community and the Obama administration (access which has proven controversial). With an event like the bin Laden raid, initially so highly secretive, with the dissemination of information cleverly stage-managed, the filmmakers can claim an authority that perhaps surpasses that of former SEAL Mark Owen, with his ground-level view. And given that this is a recent affair, the first books on the subject having appeared in the last few months, there's a fresh-off-the-presses air to this film. Commentators and Kathryn Bigelow herself have compared the film to a piece of journalism. If journalism is the first draft of history, then Zero Dark Thirty is positioning itself as the work of a reporter embedded at the most covert levels; this film is the exclusive.
It's in the interest of these movies to never quite settle the question over their accuracy. They're better off when adhering closely to the historical record but also leaving some wiggle room. Otherwise, we would have little to debate; controversy surrounding a new movie generates easy copy. But whether Zero Dark Thirty promotes the incorrect view that torture yielded intelligence that led to the discovery of bin Laden's hideout is ultimately less important than what this argument reveals about how an "accepted" historical narrative is created. (And as a friend of mine commented, it's odd that Bigelow is seemingly receiving more flack for her dramatization of torture than the Bush administration did for actually ordering and countenancing torture.)
No, what these films reveal most are our fears about our society's historical literacy, that these mass entertainments must be counted on to give us a true vision of who we are. Salon critic Andrew O'Hehir may have said it best when he remarked, "for Tarantino, history is just another movie to strip for parts." With Django, it's easy to conclude that the antebellum South just provides a useful thematic backdrop and moral structure for a particular kind of revenge-driven gore-fest. The movie is a fantasy from first to last, with anachronisms and disturbing liberties taken throughout (mandingo fighting). In this sense, Tarantino isn't the greatest violator of the historical record. Among this season's directors, he's simply the most honest.
Previous Kvetches: My Sheldon Adelson Complex
Retweet This War