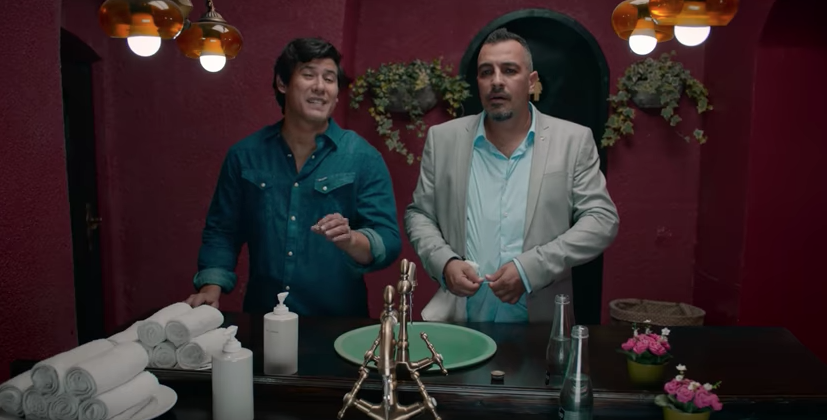 Netflix taketh away, but surely Netflix giveth again.
While a number of films will leave the streaming service come June (bye, Men in Black!), there's a whole new roster of movies set to take their place, from Star Wars: The Last Jedi to Nick and Norah's Infinite Playlist (get you some early Kat Dennings). Plus, a couple of the films, both foreign, are explicitly Jewish. Here's what you should keep an eye out for:
Maktub debuts on June 15th. The 2017 film is a dark comedy out of Israel. It starts with parallels to Pulp Fiction—a couple of thugs survive violence (a terrorist bombing) when out to eat after a job. Shaken from their experiences, they decide to take another path. The pair steals notes from the Kotel, and decide to make the prayers of supplicants come true, using the skills from their old job (strong-arming). Shenanigans ensue, especially because when the criminals exited their old life, they took the boss's cash with them.
Maktub stars Israeli TV superstar duo Guy Amir and Hanan Savyon. As of January, the film was even slated for an American remake. So now's your chance to say that you watched the original before everyone was talking about the English-language version, and that you liked the Hebrew one better.
To Each, Her Own (originally Les Goûts et les couleurs) drops towards the end of the month, June 24th. There's not much information about the recent French film online, but Netflix describes it thusly: "Just as Simone works up the courage to tell her conservative Jewish family she's a lesbian, she finds herself attracted to a male Senegalese chef."
So, not much there, but it's definitely an LGBTQ flick. The film's director is Myriam Aziza, who has also done documentary work that touches on her own conflicted Jewish identity.
(Of course, this is only the new stuff. Netflix already has lots of Israeli and/or Jewish movies and TV.)
But if you've gotten through everything and need to wait for these movies, in the meantime, you can check out the trailer for Maktub below:
Still from Maktub via YouTube