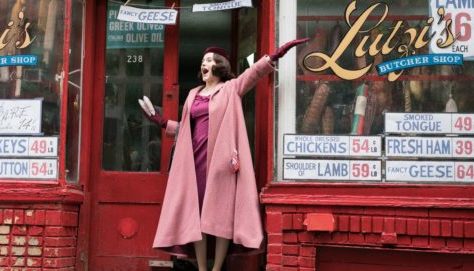 One of Amazon's new pilots, The Marvelous Mrs. Maisel, is easily the most Jewish show in a long time. But there's that aching question you must have had while watching it: Where have you seen the people who make it what it is?
Rachel Brosnahan (Miriam "Midge" Maisel) should be familiar to TV audiences for her far less talkative but equally alluring portrayal of sex-worker Rachel Posner on House of Cards. She transitioned into a showier, more self-confident role as an eager fiancée on Woody Allen's Amazon series Crisis in Six Scenes, and you may also have seen her on Manhattan or The Dovekeepers.
Tony Shalhoub (Abe Weinberg) is best known for playing an obsessive-compulsive detective on USA's Monk. He won three Emmys for that nuanced, very particular character. He's tried his hand at a few short-lived shows since then, like BrainDead and We Are Men, and also joined Nurse Jackie for its final season. Before Monk, he delivered standout movie performances in Big Night and The Man Who Wasn't There.   
Marin Hinkle (Rose Weinberg) gets her previous TV experience from a long-running CBS show of considerably less sophistication – Two and a Half Men – on which she played Alan's ex-wife Judith, and from the much more highly-regarded ABC series Once and Again. You may also have seen her on Speechless, Deception, or Madam Secretary.
Michael Zegen (Joel Maisel) is a young actor who has already made his mark in a number of television projects. He got his big start as an eager firefighter on Rescue Me, played a young Bugsy Siegel on Boardwalk Empire, and even had a stint on The Walking Dead.
Alex Borstein (Susie Myerson) has been all over the place in many different roles. She voices Lois and a handful of other characters on Family Guy, The Cleveland Show, Bordertown, and Robot Chicken. She's best known for Gilmore Girls or MADtv, and she recently starred as head nurse Dawn on HBO's sardonic medical comedy Getting On.
Luke Kirby (Lenny Bruce) has spent the past few years not as a bad boy musician but as a do-gooder lawyer on SundanceTV's highly-acclaimed series Rectify. Before that, he appeared on The Astronaut Wives' Club, Tell Me You Love Me, and Canadian series Cra$h & Burn and Slings and Arrows.
Amy Sherman-Palladino, who wrote and directed this pilot, is most famous as the creator of Gilmore Girls, a show that has plenty in common with her newest project. She recently helmed the Netflix revival Gilmore Girls: A Year in the Life, and has also worked on two shorter-lived series, Bunheads and The Return of Jezebel James.
Image by Sarah Shatz/Amazon Video