https://www.instagram.com/p/2GivWtHj4q/
https://www.instagram.com/p/BazIxMAloz6/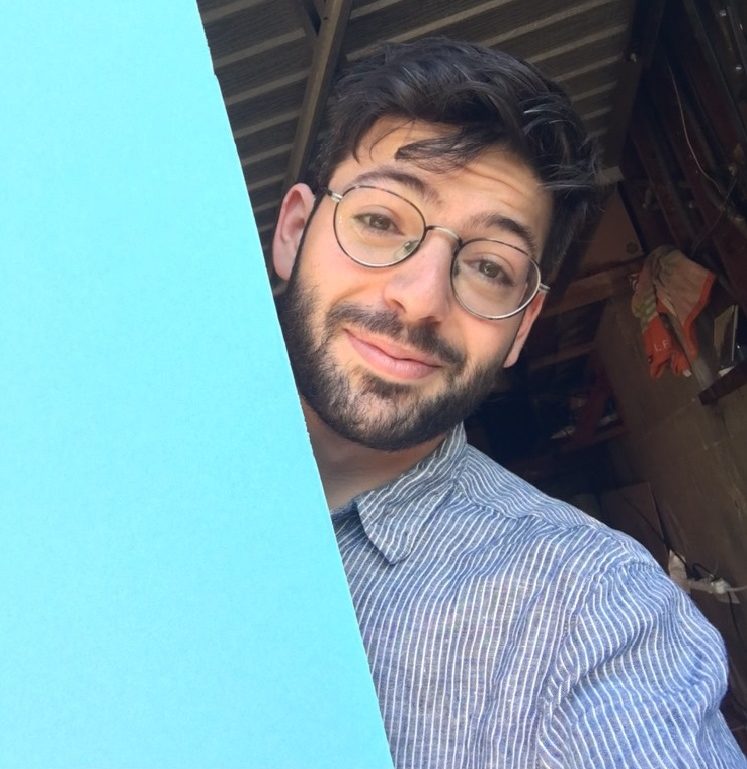 Cartoonist Jason Adam Katzenstein, 27, is a regular contributor to The New Yorker and the illustrator of the graphic novel Camp Midnight. He graduated from Wesleyan University and lives in Brooklyn, New York, where he plays in the band Wet Leather.
You grew up in the Los Angeles area. What's your favorite fictional representation of your hometown?
Bojack Horseman's been pretty great. I consider it to be one of the more realistic interpretations of LA that I've seen, just because LA feels like a surreal animal land.
I think E.T. takes place in Encino, which is where I grew up. There's that shot where he first lands, and you see the city, which is a view that I sometimes would have driving to school.
Was it always your dream to be a cartoonist?
It was almost always my dream to be a cartoonist. I wanted to be an astronaut— I don't know how I reconciled that with my fear of flying. But I guess I just thought that space was different. Then I saw the play Taps with my family, and I wanted to be a professional tap dancer. Then I wanted to be in the NBA.
Then I started drawing basketball players and drawing everything, and I was not very athletic or tall. And so my backup dream was to be a comic book artist.
A lot of dreams had to be crushed for you to be a cartoonist!
Yeah. My NBA dream was deferred, but pretty much from nine or 10 onward, I was reading MAD Magazine and Spider-man and dreaming of being a cartoonist.
I was bar mitzvahed, and my theme was superheroes. So that's how long I've wanted to do this.
What was the Torah portion at your bar mitzvah?
It was Sukkot. I went to Jewish day school, so I learned Hebrew… I read seven times from the Torah. I had all this energy and ambition when I was 12, and that's where I put it.
There were giant inflatable crayons at the party. And I don't really like sweets, so there was a fake cake. It was a cake you couldn't eat, with superheroes on it, that I just kept. It was at my family friend's restaurant, so there was a lot of food. But in retrospect, yeah, I was kind of a jerk to have this fake cake in front of people.
You've contributed to both The New Yorker and MAD Magazine. Which had the greater influence on you growing up?
I didn't read The New Yorker until my senior year of high school. Laurie Lew, our A.P. Language professor, had us get a subscription.
MAD was pretty formative early on. I actually recognized some of the New Yorker cartoonists because they also contributed to MAD… And then I worked for MAD when I was in college, but I was also reading The New Yorker.
They occupy two different places in my life, and I think that MAD really warped my sensibility early on, and really informs the work that I do for The New Yorker.
Shortly after graduating from Wesleyan, you illustrated the graphic novel Camp Midnight. How did you and author Steven Seagle connect?
We had a mutual friend, a guy named Daryl Sabara. He's an actor; he was the little boy in the Spy Kids movies… He does voices on Steve's television show, and Steve has a weekly spa day with all the writers, in LA, where they do the pools in the morning and then in the afternoon they write scripts. And Daryl invited me one time.
What was it like networking in a spa?
Well, it was… intimidating. Steve is very established in the comics world, and he leads this group, and everybody seemed to know each other, and I was shy. And I met Steve. He said, "You make comics. Are you good?" And I said, "Yes!" And then he saw my work, and he said, "Let's do a book together."
As I remember, you came up with your first New Yorker cartoon at a Passover seder.
I think it was Rosh Hashanah. It definitely was, because it was in September.
What led you to draw a cartoon at that particular Rosh Hashanah?
It was more that Rosh Hashanah was beginning, and I needed to finish my batch [for The New Yorker]. And so that was one of the last cartoons I was doing in the batch. And I didn't have any time, so I didn't have time to stress about what a New Yorker cartoon should be about or what it should look like. So I just did something quickly, kind of stream-of-consciousness.
Jews have a long history with comics, from the Superman creators to New Yorker cartoonist Roz Chast. What makes cartooning the Chosen medium?
For Jews in general, I think, it's a long and meandering answer that I couldn't touch on as well as The Amazing Adventures of Kavalier and Clay… That book has a lot to say about comics and Judaism and Superman as a Moses allegory. [Superman], who was created by Jews: Stan Lee was Stanley Lieber, Jack Kirby was Jacob Kurtzberg. All these Jewish creators making these superheroes with names like Peter Parker, Clark Kent, but these were all their secret identities, these very goyish names. But Superman was Kal-El, which is "All That Is God."
[For me], I think there was something about the Jewish comedy sensibility that I recognized in MAD Magazine. I mean, they would use a lot of Yiddish terms. I went to Jewish day school; I heard all the old Jewish jokes. So there was something very familiar in MAD.
Something about the Spider-man story, too, about that particular brand of guilt that he always felt, felt familiar to me. There's a kind of Jewish je ne sais quoi about a lot of the comics I grew up with.
You've drawn a number of comics about anxiety and OCD. At this point, would you say mental illness is more of a demon or a muse for you?
I don't know that those two are mutually exclusive, that it's a muse and a demon. All of the work that I make is about what I'm preoccupied with, so when I'm trying to find a joke—and I do feel like I'm finding these things, not creating them out of thin air—I sort of go through what's on my mind. And this is what's on my mind… It's an intrusive thought, but it's a thought nonetheless, and that becomes the foundation of what I'm working on.
Bob Mankoff has a great section in one of his books on cartooning about where different artists get their ideas. Where do yours come from?
When I was a little kid, I had a bunk bed, and I would look up at the wood above my head and all the patterns, and they would turn into these pictures. So I try and stimulate that for myself now. So I'll take a blank page and make marks across the page until they look like images and turn into jokes.
Now that you're a freelance cartoonist, what does a typical day look like? How often do you leave the house?
Not as often as I should. I went on a jog today, patted myself on the back. What did I do today? I draw for Amazon's lit journal called Day One, so I did their cover this morning. And I did two Camp Midnight pages for the sequel. Now I'm working on a render of a New Yorker cartoon I sold. And tonight I will see my friend's band play.
The New Yorker has published a few themed collections of cartoons, such as The Big New Yorker Book of Cats. If they made a book of your work, what would it be called?
I've always wanted to make something that I called a "neuromcomic."
Neuroses plus romantic comedy? That sounds good.
Thanks, I've thought about it too much… There are a lot of breakup cartoons. I think breakups are funny. There are a lot of anxiety cartoons.
My first [New Yorker] cartoon is about somebody in a relationship revealing that they've been deceptive about who they really are. So I'd say that from cartoon number one the "neuromcom" theme was established.
This interview has been lightly edited and condensed.
Photo courtesy of Jason Adam Katzenstein. Comics by Katzenstein.