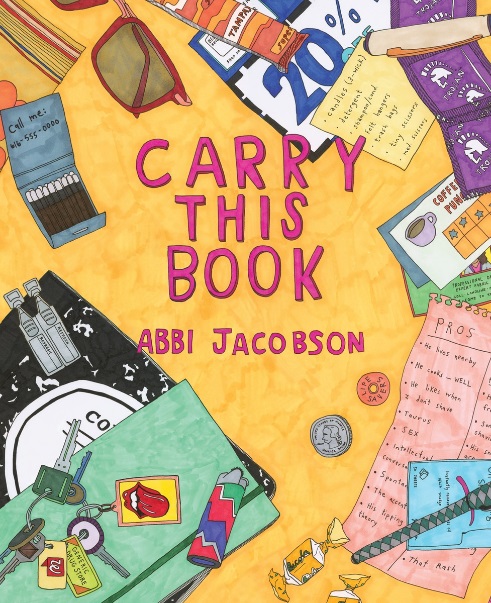 Have you wondered about what your favorite cultural figures carry in their bags, that most intimate of spaces? Abbi Jacobson (of Broad City fame) did. And now, she's sharing her best guesses with you in her (third) illustrated work, Carry This Book.
Ranging from Willy Wonka, to Sigmund Freud, to Bernie Madoff, to, well, God, Jacobson shows us what she imagines they have on them from day to day (and provides her own lightly judgmental commentary), and she's pretty convincing. Of course Nora Ephron would carry a bouquet of newly sharpened pencils (and deep cut there, Abbi).
But the best part about the book isn't even its jokes about icons, living, dead, or fictional. Carry This Book replicates that feeling of watching Jacobson's TV show that you already know her and are best friends and hang out with her and Ilana Glazer (whose purse is also in here, by the way) as a Jewish pal trio and you simultaneously feel totally at ease and also mutually indulge in all your worst neuroses.
For example, some of the women Jacobson admires most seem to be interested in watching Broad City (and Michelle Obama has a Marc Maron interview with Glazer and Jacobson on her list of podcasts). But despite this idea being  her invention, Jacobson acts surprised and elated every time she encounters a shout-out she has essentially left for herself ("WHAT!?!" she exclaims when she sees a Broad City App on Beyoncé's phone).
Throughout the book, also Jacobson peppers in handbag-related advice both literal and figurative, including lamenting that her "essentials" list is far too long, and that we all carry anger, love, regrets, hopes, etc. And even in short, funny captions, she expresses nuanced opinions.
"In all seriousness, Barbie should rep all shapes, colors + sizes of women around the world," She scrawls next to the doll's imagined driver's license. But then she includes a NASA astronaut ID card, and adds, "…Excited she has + is evolving."
Considering her two-page spread gently ribbing self-help and guide books ("Field Notes!" "Pocket Dictionary!" "How To: Live Life The Best!"), Jacobson has presented one in the gentlest way possible. Even Albert Einstein must have carried around emergency chocolate or a pair of socks "In case someone gave him shit" for going without. You can schlep around your own insecurities, as long as you also take what you need.
Ultimately, in perhaps the best advice in the entire book, remember Jacobson's carrying "Must List":
A Pen
Some sort of notebook
Headphones
Lip gloss
Metrocard
AN OPEN MIND