Today is both #ThrowbackThursday, as well as Bastille Day. So to celebrate, what's Jewish, French, and a part of your childhood? Well, remember Madeline, the little Parisian girl of Ludwig Bemelmans' unforgettable picture book?  Her idyllic life, visiting the zoo  and the Place de la Concorde, is only occasionally punctuated by the sadness of witnessing a wounded First World War veteran negotiate the non-accessible Paris streets. Suddenly, she is stricken with acute appendicitis. Her benevolent and practical maternal figure, Miss Clavel, wisely contacts…a Jewish doctor!
"And soon after Dr. Cohn/came, he rushed out to the phone/and he dialed: DANton-ten-six-/'Nurse, he said, 'it's an appendix!'"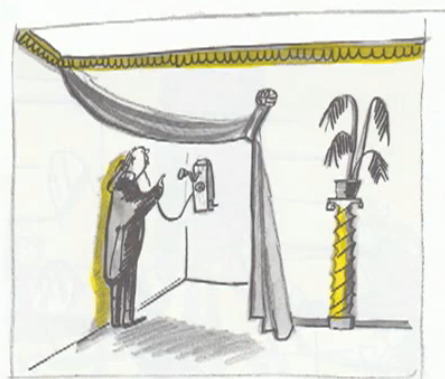 But not only is he a skilled diagnostician, he communicates kindness and strength:
"Madeline was in his arm/In a blanket safe and warm."
Now, in spite of the way you may remember the story, Madeline is not an orphan, as evidenced by the beautiful dollhouse her papa sends her in the hospital, making her the object of her classmates' envy.
In his 1954 acceptance speech for the Caldecott Award for children's book illustration, Bemelmans explicitly revealed the origin of Dr. Cohn's unmistakable profile. Hospitalized for a bicycle accident, the doctor who cared for him reminded him of Léon Blum, the first Jewish, and first Socialist, prime minister of France.  Bemelmans recalls meeting Blum, and warmly refers to him as "the great patriot and humanitarian Léon Blum," revealing to readers that he is indeed the compassionate doctor who saves Madeline. (This hospital stay also provided Bemelmans with the famous memory that "… a crack on the ceiling had the habit/of sometimes looking like a rabbit").
On Bastille Day, let's say merci to Dr. Cohn, Léon Blum, and leaders who care for  society's most vulnerable, including children.
Emily Schneider is a writer and educator with a special interest in children's literature. She lives and works in NYC.
Images by Ludwig Bemelmans