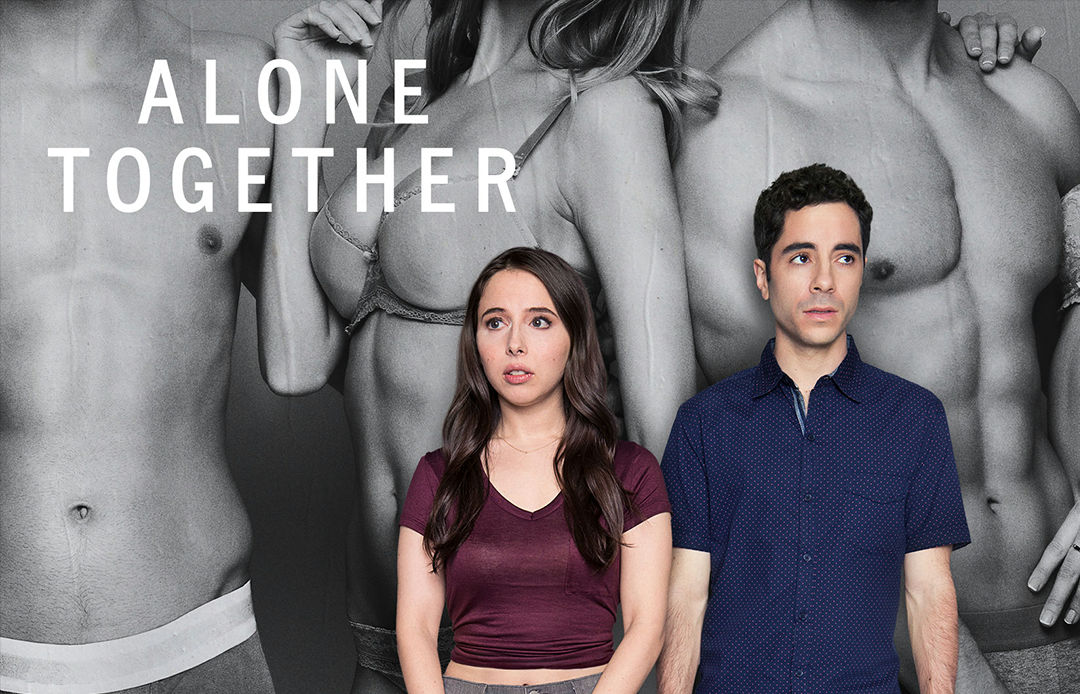 Based on the short film of the same name, the new Freeform series Alone Together, created by and starring Jewish LA comedians Esther Povitsky (AKA Little Esther) and Benji Aflalo, doesn't take itself too seriously. With Andy Samberg, Akiva Schaffer, and Jorma Taccone of The Lonely Island on the production team, madcap antics are to be expected.
In a very quotable pilot, we meet Povitsky's and Aflalo's fictional counterparts, also named Esther and Benji, as they are discussing the morality of one-night stands. "I'll have you know that the walk of shame is an anti-feminist construct," Esther tells Benji, who has just picked her up at her date's house, to which he replies, "You're just too lazy to walk."
Throughout the episode, Esther and Benji find themselves in a variety of humorously uncomfortable situations, from being insulted by a green juice-slinging goddess at a trendy juicery ("I'm only a lesbian to guys under 5'10," she tells Benji as Esther stockpiles spirulina chips) to joining an escort service to get paid to eat mac and cheese at an upscale restaurant in sweatpants (watching Povitsky act opposite Parks and Rec's Jim O'Heir, who plays her date for the evening, is a hoot).
But those looking for the SoCal millennial equivalent of the Golden Globe Award-winning Marvelous Mrs. Maisel will have to look elsewhere. On screen, Povitsky — who you might recognize as Maya from Crazy Ex-Girlfriend — deals in pathos rather than moxie. And, as her scene partner and platonic life partner, so does Aflalo. Think of Esther, the character, as Midge Maisel's antithesis (Midge's drunken debut at the Gaslight notwithstanding): unpolished in style and bearing, quick to make a self-deprecating remark about her appearance, and all too eager to have one-night stands with chubby guys to raise her self-esteem.
We're meant to sympathize with the show's pretty-darn-Jewish-looking heroes, short, brown-haired, and blessed with assets other than conventional Hollywood looks, but there's nothing clever or innovative about body-shaming. Even if Esther calls herself a feminist and defends Benji at that elitist juice spot ("Shaming a guy 'cause he's short is like shaming a girl 'cause she's overweight"), she feels highly insecure.
"The name Esther isn't like really for a hot girl, so I feel like I'm Esther pretty because that's as pretty as you can be with the name Esther," Esther tells O'Heir's character when he asks her to tell a joke. At a pool party his sister throws, Benji offhandedly mentions Esther's stomach flab. "We call it her equator," he jibes.
Still, as a character study of two neurotic outsiders trying to find their place — platonically, of course because, as Esther phrases it, "Just because we're both small and undesirable doesn't mean we should date" — the show succeeds. The repeated put-downs may be tough to chew, but you're ultimately glad that Esther and Benji have each other to binge-watch Daria together while noshing on nachos. They can't seem to assimilate to the superficial reality of LA, a world peopled by shiksa goddesses and svelte clothing designers (among them Benji's sister, played by Ginger Gongzaga, whose comparative height and flawless complexion are a genetic mystery).
There is, if you look closely, power even in our most pathetic foibles. With the bar set so low, Esther and Benji are bound to succeed in life eventually, one poor decision at a time. Who needs spirulina chips or a juice cleanse to achieve that "hot girl" glow when a healthy dose of schadenfreude will do the job?
Alone Together airs Wednesday nights at 8:30.
Image via Freeform